Washington, Oct 10 (EFE).- Just hours before his first space flight, US astronaut Tyler "Nick" Hague is not thinking about the big achievements to come but rather about the little things and the uncertainty of the unknown.

"Perhaps the most interesting thing is whether I'll be able to adapt to spaceflight. As a rookie, I'll be fascinated to see how my body adapts to life without gravity," the 43-year-old US Air Force colonel who, since he was a boy, has dreamed of traveling off-planet told EFE.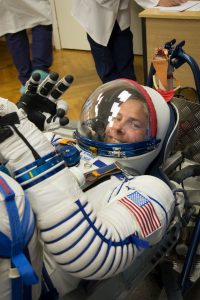 On Thursday at 0840 GMT (2:40 pm at the launch facility in Baikonur, Kazakhstan), if all goes according to plan, Hague and Russian cosmonaut Alexei Ovchinin will lift off aboard a Soyuz MS-10 spacecraft from the Baikonur base en route to the International Space Station.

That moment will be the culmination of some five years of training for Hague since NASA selected him in 2013 for its astronaut program.

He has spent the last couple of months in Kazakhstan finalizing the mission details and away from his family, although they have traveled to Kazakhstan to be on hand for the launch.

"It's my first launch and it's going to be the first that they've attended in person. They've made and will make many sacrifices for this mission to be a success, and so they're as much a part of all this as anyone," said Hague of his wife and their two children.

Over the past few weeks, Hague has been practicing his Russian, which will be the official language during the launch, practicing space walks and, of course getting the Soyuz spacecraft in perfect shape for the mission.

"We've done two checks of our ship and everything's in order. It's ready and looks beautiful," Hague said.

Beyond the purely practical aspects, his stay in Baikonur has allowed Hague to participate in some of the small ceremonies that always precede this kind of adventure, including preparing the less exotic items that he and Ovchinin will take into orbit and planting a tree before soaring into outer space.

"A few days ago I planted my tree here, on Cosmonaut Alley, just like all those who have taken off from the Baikonur cosmodrome since Yuri Gagarin. It was a real lesson in humility to walk among those trees and see the names of those who went before me and who made my trip possible," he said.

Hague, an affable and easygoing man, has not hesitated to share his experiences on the social networks in recent days.
Another aspect of the mission that has had an effect on Hague is the fact that the ISS will celebrate its 20th anniversary during his 6-month stay aboard the orbital platform.

He said he wants his space adventure to serve as an example for "how to successfully move forward to the exploration of the Moon … and of Mars," adding that he's "ready for liftoff."