Guanajuato, Mexico, Oct 11 (EFE).- The dance spectacle "A Passage to Bollywood," mounted and directed by Indian choreographer Ashley Lobo, opened the Festival Internacional Cervantino (FIC), which runs until Oct. 28 in the Mexican city of Guanajuato, with India as the invited country of honor.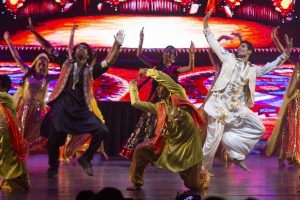 The choreography, performed by Lobo's dance company, the Navdhara India Dance Theatre (NIDT), presents a spectacular and colorful wardrobe, a series of energetic and rhythmic dance scenes based on Indian culture, and a collection of songs from films produced in Bombay's studios, known as Bollywood.

The central theme in the dance spectacle is love and how far one can go to make a dream come true.

The story is that of a young man, Sandy, who arrives in Bombay from a small town to attempt to make his hopes and dreams come true.

The play follows Sandy's journey and the relationship he forges with the woman of his dreams, Leela, as well as with "Don" Tejas Bhai, who takes him under his wing like an older brother.

The musical, which combines drama, action, romance and dance, as in a typical Bollywood film, shows the art of traditional Indian dance along with more modern styles, and is performed by 22 dancers who transmit their energy to the audience like a thunderbolt.

The FIC, which opened on Wednesday, includes 195 different activities that will revolve around the theme "The future is today" and will not only have India as the guest of honor, but also the Mexican state of Aguascalientes.

In all, 110 groups of artists from 35 countries will participate in the most important cultural festival in Mexico, which assembles different performing arts such as dance, music, film, visual arts and theatre.