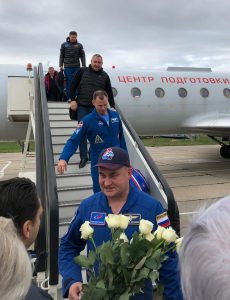 Washington, Oct 12 (EFE).- US astronaut Nick Hague thanked rescuers and supporters after a failure on one of the rockets of the Soyuz MS-10 forced the spacecraft to carry out an emergency landing on Thursday.

"Thank you all for your support & heartfelt prayers," the US Air Force colonel wrote on Twitter Friday.

"Operational teams were outstanding in ensuring our safety & returning us to family & friends," he said.

Even though investigations are ongoing, the director of manned spaceflight of the Roscosmos Russian space agency, Sergei Krikalev, said that the incident was caused by a collision between parts of the rocket.

The incident represents a setback for the International Space Station (ISS), where Hague and Russian cosmonaut Aleksey Ovchinin were heading to join the ISS crew for the next six months.

"Working with our international partners, I'm confident that we will find a path forward & continue the achievements of @Space_Station," Hague said.

The director general of Roscosmos, Dmitry Rogozin, said via Twitter that the two astronauts "will definitely fly. We are planning a launch for spring of next year."

Before Thursday's launch, Hague told EFE that the spacecraft had passed two inspections.