Lima, Oct 10 (EFE).- Keiko Fujimori, leader of Peru's main opposition Fuerza Popular, was arrested here Wednesday at a court hearing where she was due to testify in a money laundering case.

Footage from television outlet Canal N showed how Keiko was arrested after arriving at the court to be questioned by Judge Richard Concepcion Carhuancho along with her husband, US citizen Mark Vito, who was not placed under arrest.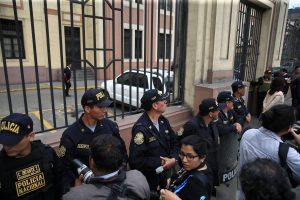 The judge accepted a request by prosecutors and ordered her to be held for 10 days along with 19 other people, including two former Cabinet ministers and people accused of funneling illegal contributions from Brazil construction giant Obedrecht to Keiko Fujimori's unsuccessful 2011 and 2016 presidential campaigns.

Her attorney, Giuliana Loza, said that the arrest was "an arbitrary and abusive decision," because her client had arrived at the court in "strict compliance" with a judicial order.

Keiko Fujimori is being persecuted because she leads Fuerza Popular, Loza told Canal N.
Fujimori and Vito are being investigated for laundering campaign contributions in 2011 and 2016.

Both Marcelo Obedrecht, the company CEO, and Odebrecht's former top executive in Peru, Jorge Barata, have told Peruvian prosecutors that the construction giant provided campaign contributions to Keiko, who has repeatedly denied having received that money.

Keiko inherited the leadership of Fuerza Popular from her father, disgraced former President Alberto Fujimori, who recently returned to prison to complete serving a 25-year sentence for crimes against humanity.

The elder Fujimori left custody in December 2017 with a pardon from then-President Pedro Pablo Kuczynski, but a Supreme Court judge subsequently revoked the measure on constitutional grounds.