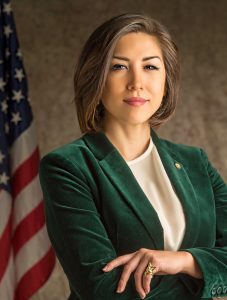 Portland, Oregon, Oct 12 (EFE).- Born in a rural and Republican area, traditionally led by white men, Democrat Paulette Jordan is seeking to become the first female governor of Idaho and the first Native American to lead any US state.

During an interview with EFE, Jordan said she seeks to demonstrate that "there is no race or gender in true leadership."

"The fact that we have never had a Native American governor in the US or a woman governor in Idaho shows that we do not have the right system to truly represent the people," she said.

Jordan explained that she belongs to a long lineage of great leaders, who have been a crucial source of counsel and wisdom in her life and career.

As a member of the Coeur d'Alene tribe, she adopted engrained aspects of her culture like a strong connection with the land, which shaped her view of the world and drove her to seek leadership positions.

"I don't seek to be a ruler, but rather to be the voice of the people of Idaho, and to return power to the people," she said.

One of Jordan's goals is to protect public lands and the environment from large corporations, which she considers are "willing to destroy them for their own profit."

"We know that centuries are needed to correct this reckless and selfish behavior. Our lands belong to our future generations," she said.

Seeking to govern a state in which public elementary schools are among the worst in the country, Jordan considers that it is crucial to reform the education system, as well as to provide affordable health care and support small businesses.

"Leaders must become an example so that people can see beyond gender and origins," Jordan said, adding that it is crucial to show respect and to listen to the elderly.

The 38-year-old Jordan, who is descended from 19th-century Native American chiefs Moses and Kamiakin, said that "their leadership has shown me how to be strong in negotiations regarding issues that affect both business and government, a strength that comes from how we treat others."