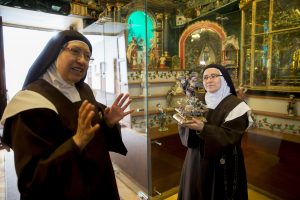 By Susana Madera
Quito, Oct 15 (EFE).- The thick white walls of Carmen Bajo Monastery in Quito's colonial center display works of art more than three centuries old, silent witnesses to the prayers of the Carmelite nuns who came to Ecuador 350 years ago.

Located in the historic center of the Ecuadorian capital at some 200 meters (660 feet) from the Grand Plaza, its imposing stone walls are home to 12 nuns, some of them ever-smiling, of whom the youngest is 18 and the eldest 103, though the faces of many hide their true age.

"It's because the place is so cold, it keeps us like a refrigerator," laughed Sister Raquel de Santa Teresita y San Jose, 59, she of the small body, big grin and unwrinkled skin.

Sister Raquel is curator of the art collection of the monastery where she has lived for 41 years, and whose history is compiled in the book "Desde las Entrañas del Carmelo" (From the Heart of the Carmelite Convent), which goes on sale this Monday.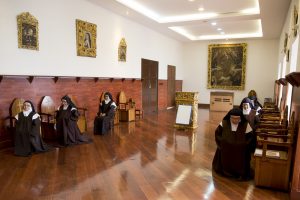 Its author, the Colombian priest Carlos Leon, wants people to see the other side of mankind…far from the noise and bustle and material interests…that they see inside themselves through their communion with silence…and that they search inside themselves for what they have tried to find outside," he told EFE about Carmelite spirituality.

Entering the monastery is like passing to another dimension, one of silence and contemplation that contrasts with the hurry-up hubbub of the historic center where more than 36,000 people live and thousands more engage in commerce and tourism.

Originally founded in 1669 in the Andean city of Latacunga, the monastery was moved to its current location following a devastating earthquake in the late 17th century.

It covers an area of 5,400 sq. meters (6,600 sq. yards), and its architectural design permits a clear view of two cloisters – that of the Oranges, named for the fruit trees planted in its patio, and that of the Magnolia, which got its name from a tree planted there 100 years ago.

Its true treasure is in the rooms of the second cloister, which display paintings on canvas, sculptures of wood and wax, and a splendid Nativity with hundreds of pieces that were stored away for centuries.

"In the gallery of the Nativity alone there are some 500 works of art" and "so many more in the whole monastery," Sister Raquel told EFE.