Montevideo, Oct 15 (EFE).- Renovating Montevideo's Centenario Stadium, where the first World Cup was staged in 1930, is part of the work Uruguay must complete as it prepares to host the 2030 global soccer tournament along with Argentina and Paraguay.

Uruguayan architects Roberto Santomauro and Javier Olazcoaga set the process in motion with a proposed renovation that maintains the stadium's traditional style but adds futuristic upgrades throughout the facility.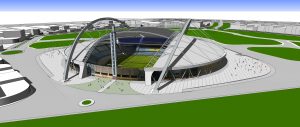 In an interview with EFE, the architects explained that their concept responded to a call for project proposals that was not completed but led them to submit their ideas to the public.

"Decisions must be made about Centenario Stadium, with or without the 2030 World Cup, and it needs structural work to either leave it as it is or to renovate it totally," Olazcoaga said. "We chose the concept of maintaining the stadium as it is but updating it and, above all, creating a new image."

The most notable feature of the architects' first draft is the installation over the grandstand of a roof made of modern, engineered flexible materials, preserving the stadium's distinctive and traditional Tower of Honor.

This project "has the complexity and the challenge of being a monument for world soccer," Santomauro said, adding that almost 90 years after Centenario was built, the facility needs to adapt and add some features.

"We recognize that the stadium has an expanse not to be found in other stadiums, and that is very valuable for us as Uruguayans and as architects," Santomauro said. "The challenge is how to project its image into a new era."

The architects estimate that a full renovation of Centenario will take about four years and cost between $100 million and $150 million.