Cancun, Mexico, Oct 16 (EFE).- Eleven years after an incident in which she was mauled by two unleashed dogs on a Mexican beach, a white sea turtle is the face of environmental conservation.

The tragic event inspired the creation of the first hospital specialized in rehabilitating sea turtles, an endangered species.

Esperanza – the name given to her by the veterinarians who admitted the dying reptile – has become the poster child for an environmental conservation and awareness project sponsored by Xcaret eco-park's Sea Turtle Hospital.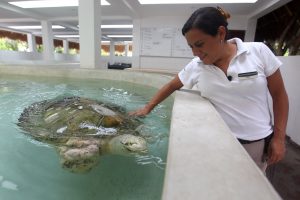 The species is quite fragile, an assertion evidenced by the fact that, after more than a decade, Esperanza is yet to fully recover from its wounds and still receives medical treatment, veterinarian Ana Cecilia Negrete Philippe said.

Negrete added that Esperanza now "lives well" and gets much special attention to compensate for the tragedy of not being able to fulfill her ecological destiny and contribute to the ecosystem.

The hospital – which is the only one of its kind in Mexico – has already helped hundreds of specimens rescued not only in Quintana Roo, but all over the Yucatan peninsula.

"Basically, we admit turtles that require medical attention ," Negrete said, adding that the institution heals, rehabilitates and returns the chelonians to the sea.

Some of the reasons turtles end up in the hospital include skull fractures with machetes, as well as being hit by motorboat propellers, which "shatter their shells," leading to years in the recovery room before the animal is ready to be released.

"We see a lot of turtles that swallow fishing lines, which unfortunately has a bad prognosis," she said.