By Lina Broydo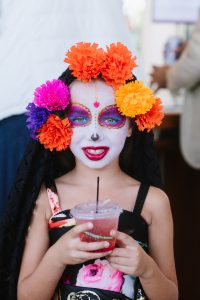 Día de los Muertos Festivities with San Francisco Symphony 
November 3 at 2 p.m.
San Francisco Symphony (SFS) celebrates Mexican Heritage with Día de los Muertos with performances by The Villalobos Brothers and the San Francisco Symphony led by conductor Jacomo Bairos.
The concert, plus lobby art and colorful activities guided by bilingual docents, immerses audiences in the vibrant cultural traditions of the holiday, marked annually in Mexico and throughout Latin America as they remember and pay tribute to the lives of those who have died.
Conductor Jacomo Bairos and the SFS open the 2pm concert with Sam Hyken's Toccata y Fuga, a Spanish dance-infused arrangement of J.S. Bach's Toccata and Fugue in D minor.
The program continues with Silvestre Revueltas' evocative Noche de Jaranas from La noche de los Mayas, composed for the 1939 film of the same name, after which Casa Círculo Cultural perform a traditional neon Quetzalcóatl serpent dance.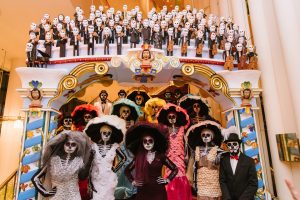 Two works by Manuel de Falla follow: selections from El sombrero de tres picos (The Three-Cornered Hat), commissioned in 1919 by Diaghilev with costumes designed by Picasso; and selections from Falla's Andalusian-influenced ballet El Amor Brujo, during which dancers from Casa Círculo Cultural join on stage.
The program closes with the Villalobos Brothers in their original compositions. Sharing a message of "love, brotherhood, and social justice," the Mexican-American ensemble's songs infuse elements of jazz, classical, and Mexican folk music.
Come early to enjoy the art installations and activities in the colorfully decorated Davies Symphony Hall lobbies. Attendees will be greeted by "Catrines y Catrinas," the iconic image of Día de los Muertos celebrations, in hand-painted, Aztec-themed dresses. Guests can participate in face painting and a Catrina photo booth.
Bay Area artist Irma Ortiz demonstrates her process of creating decorated sugar skulls in an interactive exhibit. With costumes and painted faces, musicians from the Mission District's Mariachi Juvenil la Mision and dancers from Cuicacalli Ballet Folklórico Mexicano perform on the First Tier. Bilingual docents will be stationed at each altar and installation.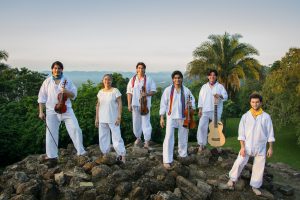 This program is presented in partnership with the San Francisco Arts Commission.
Tickets and Information 
Prices start at $25
Children 18 and under receive half-price tickets
415-864-6000
sfsymphony.org/Dia
SF Symphony Davies Concert Hall
Van Ness and Grove Streets in San Francisco
Photos courtesy of SF Symphony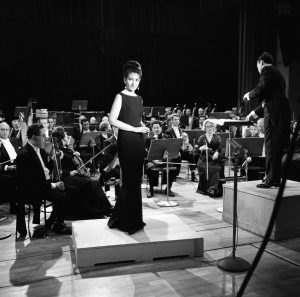 Sony Pictures Classics Presents "Maria by Callas" 
Opens on November 9 at Landmark Clay in San Francisco; November 16 at Rialto Cinemas Elmwood in Berkeley; Christopher B. Smith Rafael Film Center in San Rafael
A treasure for the opera lovers and the fans of the legendary opera diva Maria Callas – this one is definitely for you and me! Tom Volf's "MARIA BY CALLAS" is the first film to tell the life story of the legendary Greek/American opera singer completely in her own words.
Told through performances, TV interviews, home movies, family photographs, private letters and unpublished memoirs—nearly all of which have never been shown to the public—the film reveals the essence of an extraordinary woman who rose from humble beginnings in New York City to become a glamorous international superstar and one of the greatest artists of all time.
Assembling the material for the film took director Volf four years of painstaking research, which included personal outreach to dozens of Callas's closest friends and associates, who allowed him to share their personal memorabilia in the film. When recordings of Callas's voice aren't available, Joyce DiDonato, one of contemporary opera's biggest stars, reads her words. Through Volf's intimate portrait of Callas, you will see that some commonly held beliefs about Callas, notably her reputation as a "tempestuous" diva, have no basis in fact. "MARIA BY CALLAS" revisits many of the most notable controversies of Callas's life, from the "Rome Cancellation" to her conflict with the Metropolitan Opera's Rudolf Bing, and demonstrates that, while Callas was a demanding perfectionist, she was neither capricious nor someone who made trouble for its own sake.
The film also sheds new light on Callas's relationship with Aristotle Onassis, the supreme love of her life. Instead of trying to sum up her vast musical repertoire through countless clips, Volf instead presents some of her most important arias in their entirety. Each aria is chosen for its significance for the period in Callas's life during which she sang them.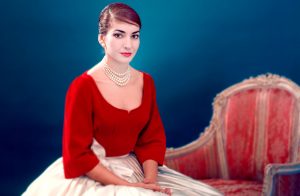 These arias include: 5 "Casta Diva" ("Norma"), "Love is a Rebellious Bird" ("Carmen"), and "I Lived for Art, I Lived for Love" ("Tosca"). Through hearing these full versions of Callas's performances, the audience is able to experience a direct, unmediated response to her music, as the audiences of her time did. "MARIA BY CALLAS" is a loving portrait of one of history's most extraordinarily talented women.
Information
Call the movies theaters for the times of the film's screening
Photos courtesy of Sony Pictures Classics
"Mandy Patinkin in Concert: Diaries 2018″
November 1 at 7:30 p.m.
Mandy Patinkin – one of my favorite actors as the CIA agent Saul Berenson on Showtime's Emmy and Golden Globe Award-winning "Homeland" for the last seven seasons, and a show I never ever miss to watch, I am looking forward a special concert at The Oshman Family JCC in Palo Alto as they present Emmy Award-winning actor and singer "Mandy Patinkin in Concert: Diaries 2018."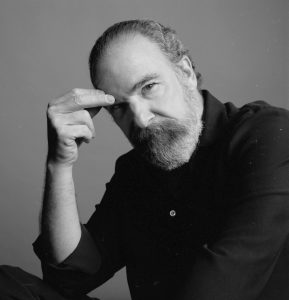 This spectacular event will offer the rare chance to experience the internationally acclaimed Broadway legend in an intimate concert setting. Accompanied by Musical Director and Conductor Adam Ben-David (The Book of Mormon, Jersey Boys, Wicked) on piano, Patinkin will present a selection of musical highlights from his stage career as well as American classics in this exclusive California appearance.
This powerful, passionate evening of song will take audiences on a far-flung journey from Randy Newman to Stephen Sondheim, and from Irving Berlin to Rufus Wainwright.
"The Mandy Patinkin in Concert: Diaries 2018″ tour will visit Palo Alto for its sole stop in California, before continuing on to Hawaii and Australia through November.
Tickets and Information
$250 Premium – includes seating in the first eight rows and post-performance reception, $150 General, $145 JCC Members and J-Pass holders
650- 223-8649
paloaltojcc.org
Oshman Family JCC
Photo courtesy of Graeme Mitchel
Circa Humans at Stanford
November 1 and 2 at 7:30 p.m.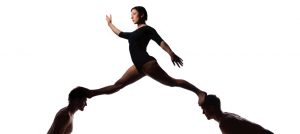 This is not your usual grand three-ring event known as circus. It is more intimate and you are in for an awesome treat. From Australia comes a world acclaimed circus with a human face.
The 10 Circa Humans are all homosapiens—nary an elephant, dog or pony in sight. With incredible strength and integrity, this award-winning ensemble will take the audiences on a thrilling journey to explore how our bodies and our connections all form part of who we are.
With their acrobatic strength they will leap, they will bound, they will inspire—and they will show you what it means to be fiercely human.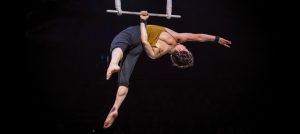 "Courageous, ground-breaking, risk-taking – these are artist/athletes of the highest order."—ArtsHub, Australia. And if you sit in the first row you may be included in the act… just for fun.
Tickets and Information
Prices range from $32 to $76
650-724-2464
live.stanford.edu
Bing Concert Hall
327 Lausen Street
Stanford University Campus
Free Parking
Photo courtesy of Stanford Live