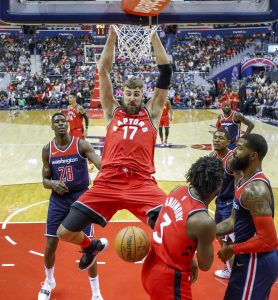 Washington DC, Oct 20 (EFE).- Raptors point guard Kyle Lowry contributed a double double of 18 points and 12 assists leaving him in charge of the attack of the Toronto Raptors, who won 113-117 against the Washington Wizards on Saturday, at the Capital One Arena in Washington.

Lowry led the attack by playing 35 minutes, while Lithuanian power forward Jonas Valanciunas and Spanish Congolese power forward Serge Ibaka each contributed 16 points.

Ibaka, who came off reserve, played 27 minutes, in which he managed to basket 4 out of 10 field shots and 8 out of 10 from the foul line and approached the double-double by getting nine rebounds, including six defensives.

The Raptors, who played without star forward Kawhi Leonard, who rested, remain undefeated since the start of the new season with a 3-0 record.