Lima, Oct 28 (EFE).- Jose Domingo Perez, the young prosecutor investigating opposition leader Keiko Fujimori, has become a superstar in the fight against corruption.

The 42-year-old Arequipa native made a splash for his role in the money laundering case accusing the daughter of disgraced former President Alberto Fujimori of accepting as much as $1.2 million from Brazilian construction giant Odebrecht for her 2011 presidential campaign.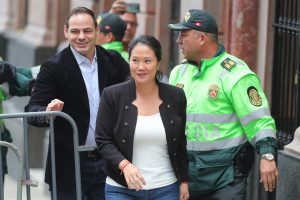 On Oct. 10, as per Perez's request, Fujimori and 11 other defendants were held in custody for 10 days, and Judge Richard Concepcion Carhuancho has to decide whether to accede to the anti-corruption attorney's petition that she be placed in preventive detention for 36 months while the investigation continues.

Just two months ago, Fujimori was considered to be Peru's most powerful person, a situation evidenced by the fact that her party was instrumental in making President Pedro Pablo Kuczynski – who defeated her in the 2016 presidential elections – to step down on voter fraud charges.

During the hearings that started last week, Perez has single handedly gone up against the attorneys representing the 11 defendants included in the case.

Perez enjoys the approval of thousands, including the some 8,000 who have said on Facebook to be willing to take to the streets to support building a statue in his honor, and the anonymous person who last week added to the attorney's Wikipedia page that he is a "Peruvian national hero," which was widely celebrated and shared on social media.