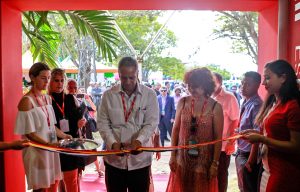 Havana, Oct 29 (EFE).- The Havana International Fair (Fihav) got under way on Monday with the participation of some 3,000 businesspeople from more than 60 nations and a Cuban call for foreign investment to alleviate the socialist country's economic crisis, which has been aggravated by the ongoing US embargo.

Cuba "is redoubling its efforts to do more foreign trade, foster exports of goods and services and improve the climate for foreign investment," Foreign Trade and Investment (Mincex) Minister Rodrigo Malmierca said in his speech during the inauguration of the 36th edition of Cuba's main trade marketplace, which has been held annually since 1983.

Presided over by Cuban President Miguel Diaz-Canel, who did not speak publicly, the ceremony kicked off a constant stream of exhibitors, officials, media and visitors to the more than 25 pavilions in the Expocuba fair zone, a precinct of 600,000 square meters (almost 6.5 million square feet) located about 25 km (16 mi.) southeast of Havana.

The 65 countries at the fair will be represented by more than 3,000 exhibitors displaying their products and services in a wide range of sectors, from agriculture to information technology, construction, tourism and power plants.

In contrast to prior fairs, the Mincex chief did not reveal the amount of foreign investment made over the past year in Cuba, which is having difficulties fully exploiting its flagship project to attract foreign capital: the Mariel Special Development Zone, a port and business area offering tax advantages to foreign firms and located 45 km west of Havana.

The Cuban government has acknowledged the need to bring in some $2.5 billion of foreign capital each year to maintain its economy, a goal that it reached for the first time last year, but which some analysts say it cannot repeat this year.

With that challenge before it, the island will present at Fihav – just like every year – its Portfolio of Opportunities in which it lists the available projects for foreign investors in assorted sectors.

Malmierca took advantage of his speech to criticize the "blockade" – referring to the US embargo – that has been "intensified" since Donald Trump assumed the US presidency in 2017 and tightened sanctions on Cuba, putting an end to the "thawing" in both the economic and political realm that had been launched by his predecessor, Barack Obama.

Despite the embargo, which limits bilateral trade, attending the fair are various representatives of US firms and institutions, including the USA Poultry and Egg Export Council (USAPEEC), whose sales to Cuba exceeded 200,000 tons in 2017.

A USAPEEC representative told EFE that the organization would continue increasing exports to Cuba in the coming years, along with introducing new products.

In contrast to the reduced US presence, Spain once again – as in previous years – is the country with the greatest representation at Fijav, with 112 companies gathered in six pavilions.

In addition, more than 20 Latin American countries are represented at the event, and China is the second biggest participant, together with a healthy representation by Japan and South Korea, which have their own exclusive pavilions.