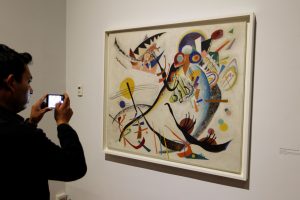 Mexico City, Oct 30 (EFE).- The colorful abstract forms of Wassily Kandinsky (1866-1944) arrived in Mexico for the first individual exhibition of the famous Russian painter in the Latin American country, which was presented on Tuesday in the Palace of Fine Arts in Mexico City.

"It is a highly anticipated exhibition, for the first time (in Mexico) there will be an overview of the production of Wassily Kandinsky, one of the most important painters not only of 20th-century Russia but of all times," said Lidia Camacho, the General Director of the National Institute of Fine Arts (INBA).

The exhibition, titled "Kandinsky, Small Worlds", was made possible thanks to "great diplomatic efforts" and collaboration between Mexican, Russian, French and American institutions, Camacho said at a press conference on the occasion of the opening of the exhibition.

With 27 paintings that reflect the artistic evolution of Kandinsky, the exhibition will be open in the museum, in the center of Mexico's capital, between Oct. 31, 2018 and Jan. 27, 2019.

The exhibition will coincide with his birth anniversary on Dec. 16, 1866 in Moscow, and that of his death on Dec. 13, 1944, which will allow Mexico to celebrate his legacy with even more intensity.