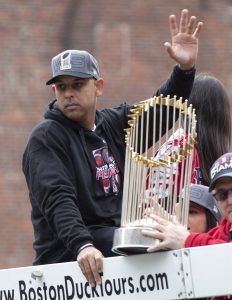 Boston, Oct 31 (EFE).- The Boston Red Sox and their fans took to the streets here Wednesday to celebrate the franchise's fourth World Series title in 15 years.
The supporters of that storied Major League Baseball team showed their appreciation for the entire organization and especially for its rookie manager, with one fan holding up a sign that read "Alex Cora for President 2020."
A member of Boston's 2007 championship team as a player, Cora has been credited with bringing a talented group together and improving the morale in the clubhouse.
The parade began at the Red Sox's 106-year-old stadium, Fenway Park, and covered a route through several downtown streets.
Players, coaches and executives rode on duck boats (amphibious vehicles used to offer city tours to visitors) and took turns holding up the championship trophy the team won with a four-games-to-one victory over the Los Angeles Dodgers in the World Series.
Earlier in the playoffs, the Red Sox defeated their arch-rival, the New York Yankees, three games to one before brushing aside the defending World Series champion Houston Astros four games to one in the American League Championship Series.
"They should enjoy it. Like I've been saying since Day 1, this is crazy, this is madness in Boston.
It's 24 hours a day, seven days a week here," Cora said.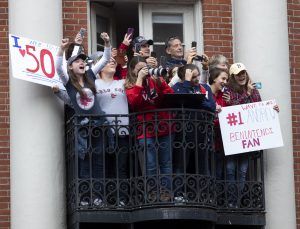 He added that Red Sox fans have sky-high expectations but that the Boston players do as well "and that's why they're world champs."
Referring to the large turnout for the celebration, Cora joked that many of the fans probably wanted him fired when the Red Sox were trailing 4-0 in the seventh inning of Game 4 of the World Series.
But after scoring just two runs over a span of 27 innings (including an 18-inning 3-2 loss in Game 3, the longest contest in the history of the fall classic), the Red Sox erupted for nine runs in the final three innings of Game 4 to win 9-6 and turn the series decisively in their favor.
Boston then won Game 5 – the last of three games played at Dodger Stadium in Los Angeles – last Saturday by a score of 5-1 to clinch the franchise's ninth World Series title.
The Red Sox also have won three other World Series titles this century: in 2004 (ending an 86-year championship drought), 2007 and 2013.