Lima, Oct 31 (EFE).- A Peruvian judge ordered opposition leader Keiko Fujimori held in prison for up to 36 months pending trial in a case involving allegations that she accepted illegal campaign contributions in her 2011 presidential run.

The prosecution presented considerable evidence that Fujimori wittingly accepted $1 million in illegal donations from Brazilian construction giant Odebrecht, Judge Richard Concepcion Carhuancho said.

Concepcion justified the need to hold Fujimori in prison as a preventive measure while prosecutors investigate allegations that she led a criminal network within her party by citing the danger that she might try to destroy evidence or tamper with witnesses.

He cited statements by witnesses claiming that Fujimori had reached out to erstwhile Supreme Court judge Cesar Hinostroza – now in custody in Spain awaiting extradition – to secure favorable rulings in the case.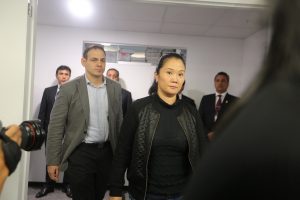 Concepcion also concluded that she presented a "high and intense" flight risk.

Fujimori's attorney, Giuliana Loza, immediately appealed the judge's ruling.

Keiko inherited the leadership of the Fuerza Popular party from her father, disgraced former President Alberto Fujimori, who governed from 1990-2000.

His administration collapsed in the Fall of 2000 amid a burgeoning corruption scandal involving spy chief and top adviser Vladimiro Montesinos.

When the dismissal of Montesinos failed to appease public outrage, Fujimori fled Peru for Japan, from where he faxed his resignation as president.

Tokyo granted Fujimori asylum by virtue of the Japanese citizenship his emigrant parents obtained for him at the time of his birth in Peru. Had Peruvian authorities known of his dual citizenship, he would never have been allowed to run for president.

Although he was safe from extradition in Japan, the president traveled to Chile unexpectedly on Nov. 6, 2005, apparently with hopes of returning to Peru to compete in the 2006 presidential election.

But Chilean authorities promptly arrested him on an Interpol warrant and he was ultimately turned over to Peru.

Fujimori was convicted in 2009 for 25 killings carried out in the early 1990s by the covert military unit Colina.