By Lina Broydo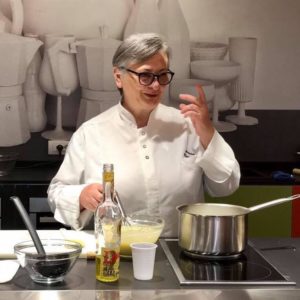 The Taste of Italy In the Bay Area 
November 12 through November 16
Eat, drink and be Italian for a week as the most authentic flavors of Puglia, Italy will be showcased in a number of outstanding restaurants throughout the Bay Area. This is a treasured gourmet opportunity to enjoy the Italian delicacies without flying to Italy, at least for now.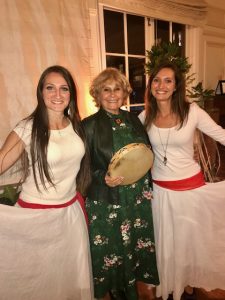 With the goal of promoting Italian culinary traditions and food-and-wine connoisseur-ship as a distinctive trait of Italian identity and culture, the Week of Italian Cuisine in the World was kicked off by Lorenzo Ortona, the Honorable Consul General of Italy (yes he is a wonderful chef!) at the packed to the capacity reception with food, wines and music of Italy at the San Francisco's Consulate of Italy.
This delicious gourmet journey will continue and take place in a number of the Bay Area fabulous participating restaurants.
The concept of the initiative is based on a few key points: bring forth high-quality cuisine, safeguard and promote Italian products, create narratives of the Italian territories.
Another objective is to enhance the sustainability of the food & wine system, through culture, education and tourism. Look for the special Italian menus offered at participating restaurants rated by the Accademia della Cucina Italiana of San Francisco, as they celebrate this year the cuisine of the Puglia Region of Italy.
Michelin star Master Chef Maria Cicorella, the unofficial culinary Ambassador for Puglia  is expected to attend.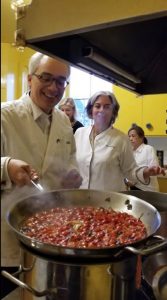 Here is the list of the leading Bay Area Italian restaurants participating in pampering your palate:

In San Francisco: A16 at 2355 Chestnut Street; Acquerello at 1722 Sacramento Street; AltoVino at 1358 Mason Street; Cento Osteria at 100 Brannan Street; Ideale Restaurant at 1309 Grant Avenue; La Ciccia at 291 30th Street; Montesacro Pinseria-Enoteca at 510 Stevenson Street; Perbacco at 230 California Street; Piccino at 1001 Minnesota Street; Poesia Osteria Italiana at 4072 18th Street; Ristorante Milano at 1448 Pacific Avenue;  Ristorante Milano, on Russian Hill; The Italian Homemade Company at 1919 Union Street; 54 Mint Ristorante Italiano at 16 Mint Plaza. In Oakland: A16 at 5356 College Avenue; In Palo Alto: Italico at 341 S. California Avenue;Terun at 448 California Ave; In Napa: Bistro Don Giovanni at 4110 Howard Lane. In Sonoma: Mamma Tanino at 500 W. Napa Street. In Berkeley: Riva Cucina at 800 Heinz Avenue; Donato & co. at 2635 Ashby Avenue. In Alameda: C'era Una Volta at 1332 Park Street. In Redwood City: Donato Enoteca at 1041 Middlefield Rd.
Buon Appetito!
For Reservations contact restaurants directly
Photos of Consul General of Italy the Honorable Lorenzo Ortona and Viola Buitoni, leading Italian food expert, cooking instructor and food adviser for the Consulate General of Italy and the  Michelin star Master Chef Maria Cicorella, the unofficial culinary Ambassador for Puglia  courtesy of  Consulate General of Italy 
Additional photos by Lina Broydo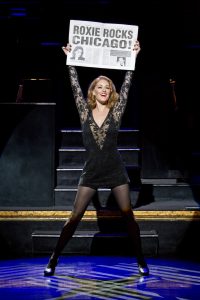 "Chicago" is Heading to San Jose
November 15 through November 18
Broadway San Jose, welcomes the return of Broadway's record-breaking, Tony Award-winning musical smash Chicago to San Jose's Center for the Performing Arts.
The longest running musical, set amidst the razzle-dazzle decadence of the 1920s, "Chicago" tells the story of Roxie Hart, a housewife and nightclub dancer who maliciously murders her on-the-side lover after he threatens to walk out on her.
Desperate to avoid conviction, she dupes the public, the media and her rival cellmate, Velma Kelly, by hiring Chicago's slickest criminal lawyer to transform her malicious crime into a barrage of sensational headlines, the likes of which might just as easily be ripped from today's tabloids.
Based on a legendary book by Fred Ebb and Bob Fosse, music by John Kander and lyrics by Fred Ebb, Chicago is now the #1 longest-running American musical in Broadway history. Time magazine calls it "A triumph," Newsweek raves "Smashing" and Entertainment Weekly sums it up by calling Chicago "Broadway's most electrifying show."  A must see and not to be missed one of the most fabulous and exciting shows on Broadway.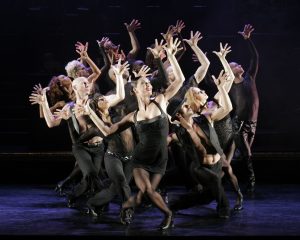 You may recall the the movie Chicago based on this musical  was awarded six Oscars at the 75th Academy Awards in 2003, including the Best Picture; Best Supporting Actress for Catherine Zeta-Jones; Best Art Direction; Best Set Decoration, Best Costumes; Best Sound and Best Editing. Intrigued? Fascinated? Get you tickets now to observe the action of Chicago to San Jose.
Tickets and Information
Prices start at $43
Call 800-982-2787 for tickets and additional information
San Jose's Center for the Performing Arts
255 S. Almaden Blvd. in San Jose
Photo courtesy of Broadway San Jose
Artist Bruce Munro Illuminates Montalvo in Saratoga Hills
Now through March 8, 2019
Bruce Munro at Montalvo: Stories in Light, a world premiere of a mesmerizing exhibition by internationally-acclaimed artist Bruce Munro lit up the magnificent grounds of Montalvo Arts Center, located on 175 acres in Saratoga Hills. Montalvo is illuminated by 10 of Munro's light-based works throughout the center's lawns, gardens, terraces, and historic structures in his first public West Coast exhibition.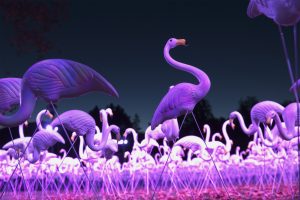 Inspired by the artist's readings of C.S. Lewis's Chronicles of Narnia, these installations range in scale from enormous and immersive to intimate, utilizing hundreds of thousands of bespoke components to construct multi-hued waves, clusters, cascades, flocks, and seas of light, transforming the historic Montalvo Villa and its extensive public areas into a breathtaking attraction of the spectacular illumination.
This is the largest number of works by Munro ever on public display at a single venue. It is virtually impossible to describe the stunning beauty of Munro's installations – you must see it! It is truly magical. Make it a special outing on the Family Nights, which also includes the art-making activities and youth-oriented tours. Ten special Munro Suppers program offers a sit-down gourmet dinners in the historic Villa before heading out to view the striking exhibition.
Find out more about the menus and reserve your seats at munromontalvo.org/dining.
Located in Silicon Valley's Saratoga Hills, the Montalvo grounds include a 1912 Mediterranean-style villa, its formal gardens and two-acre Garden Theatre; and 175 acres of trails through redwood trees.
Tickets and Information
Prices start at $15; tickets must be reserved in advance for specific dates
(408) 961- 5858
Montalvo Arts Center
15400 Montalvo Road in Saratoga
Photos courtesy of Mark Pickthall and Serena Munro

Veteran's Day Celebration in San Francisco
November 3 at 7 p.m.
Travel back in time to a USO-style dance at the Officers' Club in its World War II heyday! Light up the city's most historic dance floor as you and your partner swing to the 1940s rhythms of The Royal Society Jazz Orchestra, and enjoy classic cocktails available for purchase.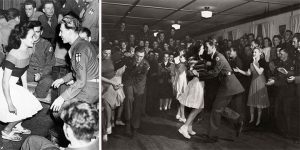 Military/vintage dress is encouraged – they'll even round out the night with a costume contest! Doors open at 7​ pm, no early admittance, please. Come early to take a walk in the exquisite setting of the Presidio with its magnificent vistas all around. This should definitely inspire somebody to compose a song: "San Francisco the Beautiful!"  Do you hear me, Mark and Zev?
Tickets and Information
Free admission
Presidio Officers Club
50 Moraga Avenue in San Francisco
Photograph by J. Baylor Roberts / National Geographic Creative