Miami, USA, Nov 6 (EFE).- The Democratic candidate for the House of Representatives Donna Shalala on Tuesday snatched Florida's decisive 27th district from the Republican Party, which for years was in the hands of veteran congresswoman Ileana Ros-Lehtinen.

According to preliminary official results, Shalala obtained 52 percent of the vote, the Republican Maria Elvira Salazar 46 percent and the independent candidate Mayra Joli 2 percent.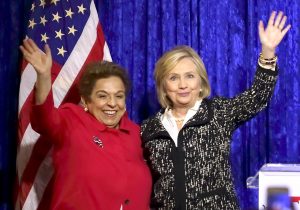 Shalala, who already started celebrating her victory at the Coral Gables Woman's Club, said in her first statement that she will represent all the residents of her district and her first priority will be health care, which is something that concerns all people, rich or poor and of any ethnic origin.

In a video posted on her Twitter account, Ros-Lehtinen tells her "friend" Shalala that she feels "greatly honored" that Shalala is the one to occupy her position in Congress and predicts that the congresswoman-elect will succeed because she knows Shalala has "public service in her heart."

Shalala, who was Secretary of Health and Human Services in Bill Clinton's administration and president of the University of Miami, sent an email letter to her supporters thanking everyone who trusted her and promising not to let them down.

She also told them that her task will not be complete as long as all the children in District 27 do not have an opportunity to pursue higher education and until the Medicare and Social Security health program does not reach all of the elderly.

"Until this heartless administration is held accountable for their numerous injustices, we will not stop," she said of Donald Trump's government, with which she was very critical during the campaign.

District 27, which includes downtown Miami, Little Havana, the financial district of Brickell, Coral Gables and other areas of Miami with a predominantly Hispanic population, is considered decisive in these elections in which control of Congress is at stake.

In the 2016 presidential election, Democratic candidate Hillary Clinton won in District 27 by 20 points of difference to Republican Donald Trump, who is now the president of the United States.

Ros-Lehtinen, who decided not to stand for re-election and plans to dedicate herself to university teaching starting in 2019, was the first Hispanic woman to reach the US Congress, almost 29 years ago.