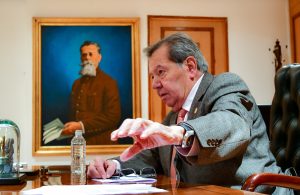 Mexico City, Nov 8 (EFE).- The inauguration of Andres Manuel Lopez Obrador as the new Mexican president will be a "historically significant" event because of its democratic importance for Mexico, the speaker of the lower house of Congress said.
Porfirio Muñoz Ledo will be the person who will place the presidential sash on Lopez Obrador on Dec. 1.
The 85-year-old speaker, who entered politics in 1963, has witnessed the swearing-in ceremonies of the last 10 Mexican presidents, but this upcoming ceremony will have a special significance.
"The protocol will be the same as in the previous occasions, since there is nothing much to change, but the important thing is that there will be no armed personnel within the chamber: no soldiers, no presidential guards, no police officers," Muñoz Ledo said in an interview with EFE.
"This will be the inauguration of a democratic government," Muñoz Ledo, a key ally of Lopez Obrador, said.
"The previous elections were stolen from us," he added, referring to the controversial elections of 2006 and 2012, which many in Mexico suspect were won by fraudulent means.
The 2006 election was won by Felipe Calderon, of the right-wing National Action Party (PAN), while Enrique Peña Nieto, of the center-right Institutional Revolutionary Party (PRI), was the winner of the 2012 election.
Muñoz Ledo also recalled the 1988 election, when PRI candidate Carlos Salinas de Gortari was proclaimed the winner after the vote counting system infamously "shut down" during the count.
"No election has been the same as the other, but there were several elections that were very turbulent. Just remember how Calderon and Peña Nieto arrived," he said.
During Calderon's swearing-in ceremony on Dec. 1, 2006, the presidential guard, which Lopez Obrador plans to abolish, mounted a security operation in Congress to counter the opposition's plan to boycott the event.
Peña Nieto's swearing-in ceremony on Dec. 1, 2012, was guarded by hundreds of police officers, as opposition lawmakers protested within Congress while clashes between demonstrators and cops took place outside.
Muñoz Ledo's goal in the new Congress is to dignify the work of lawmakers.
"Members of Congress have a terrible reputation. According to the last survey I saw, 76 percent of citizens have a negative opinion of lawmakers, and what we want to do, evidently, is to change that image, to change the image of the chamber. I hope we will succeed," he said.