By Isabel Reviejo
Mexico City, Nov 9 (EFE).- All that Rommel Jaimes knows he owes to the typewriter. He's been more than half a century in Santo Domingo Plaza in the Mexican capital typing out words dictated by others, an occupation that still survives in a society which, he said, has lost its taste for letters.
"People used to like writing; now it's hard for them to write anything. They're stuck to their mobile phones or their computers," the 63-year-old scribe told EFE.
Rommel travels every day from his home in San Juan Teotihuacan, Mexico state, to Santo Domingo Plaza, where he uses the same desk his father did.
On the desk is his greatest treasure, an automatic IBM typewriter, which, he called "the best for this work," though he admitted it gets harder all the time to find cartridges.
Rommel claims to be the most experienced scribe of Santo Domingo Plaza, a few steps from the Zocalo, the capital's main square. Centuries ago it became a destination for thousands of people who needed manuscripts written or copied.
Dominican friars previously did that work here at the seminary of the Order of St. Dominic, where today only the church remains.
Later on, it was the scribes – who were also called "evangelists" – who continued the tradition through the 19th century.
Rommel recalls how, in the beginning, people who couldn't read or write stood in long lines to order manuscripts, sheltered by the plaza's cloister.
He came to Santo Domingo at age 6 to help his dad with messages. By age 11 he was already typewriting with two fingers.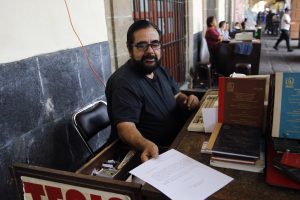 "A girl would come who wanted to send a message, or a young man who was sending his wife a letter, some flowers…it was another way of life," the scribe said.
Among the skills he acquired over the years was writing love letters, an order that is dwindling away – the last he wrote was three years ago -and for which he charged 100 pesos ($5).
The busy cloister of Santo Domingo is full of stands selling postage stamps, postcards and other stationery articles, as well as print shops.
"There aren't many typewriters left, about five or six," he said, but a handful of clients that have been coming here "all their lives" still visit his desk, and his work is complemented by that of his son, who runs a print shop.
Among the oddest jobs he has received, he said, was from a journalist who dictated a newspaper column "full of swear words."
He also admitted writing several threatening messages – anonymous of course. "I'm not here to change the world," he said.
He not only has at his fingertips the secrets of his occupation, but also those of all the subjects he has worked on in his manuscripts.
The typewriter "is the best school I ever had," Rommel said.