Washington, Nov 9 (EFE).- Secretary of State Mike Pompeo said here Friday that the United States is not trying to contain China, but rather to persuade Beijing to adjust its approach in matters related to military expansion and respect for human rights.

"The US is not pursuing a cold war or containment policy with China. Rather, we want to make sure China acts responsibly and fairly in support of security and prosperity in each of our two countries," Pompeo told a press conference at the State Department.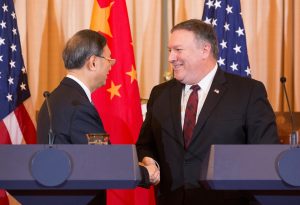 He appeared with Defense Secretary James Mattis; the director of the Office of Foreign Affairs of the Communist Party of China, Yang Jiechi; and Chinese Defense Minister Wei Fenghe following their second round of talks about security and diplomacy.

Those conversations were held in an atmosphere of responsibility and respect, according to Pompeo, who acknowledged that China and the US face "significant differences between our nations" in such areas as trade, due to the mutual imposition of billions of dollars in tariffs.

In that regard, Yang believed their differences can be settled through dialogue.

"These issues," Yang said, "can be resolved through dialogue and consultation. A trade war, instead of leading to any solution, will only end up hurting both sides and the global economy."

The representatives of the US and China agreed on the need to work together toward the "denuclearization" of North Korea, a regional ally of Beijing, but clashed on such subjects as Taiwan and the South China Sea.

Pompeo expressed concern about the building of military installations on artificial islands and reefs of the South China Sea, while Yang asserted that Beijing has sovereignty over those waters even though other countries, including some allies of Washington, reject China's claims.

On the other hand, Pompeo demanded that China respect the human rights of Buddhists and Muslims, for which Yang told the US not to interfere in "China's internal affairs."

The talks held Friday in Washington were meant to prepare the way for a meeting of President Donald Trump and his Chinese counterpart Xi Jinping late this month at the G20 summit in Argentina.