San Francisco, USA, Nov 11 (EFE).- Authorities and emergency services on Sunday were still searching for more than 100 people missing in the area affected by the large wildfire that has been burning since Thursday in northern California and that, together with another fire in the south, has already left 25 people dead.

The California Department of Forestry and Fire Protection, Cal Fire, warned that the conditions did worsen again on Sunday because of strong winds after the brief weather break on Saturday which allowed firefighters to advance in their fight against the flames.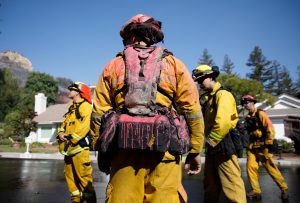 The so-called "Camp Fire" has almost completely devastated the town of Paradise, with 26,000 inhabitants, located about 280 kilometers northeast of the San Francisco Bay area, where a red alert his active since Thursday because of poor air quality due to smoke from the fire.

In addition to taking the lives of at least 23 people, the fire has destroyed more than 6,500 buildings, mostly in Paradise, and it is already considered the most devastating in the history of the state.

The 23 death, on the other hand, make it the third deadliest fire the most populous state in the United States has ever experienced, just behind the fire of Griffith Park in Los Angeles in 1933 (29 dead) and Oakland Hills in 1991 (25 death).

According to Cal Fire data, 4,050 firefighters are working on extinguishing the fire, which has already burned 44,100 hectares and is only contained to 25 percent.

The origin of the fire remains unknown and Calfire spokeswoman Janet Upton said that investigators are exploring all possible causes, "including the possibility that the fire started from a spark of electrical equipment."

The state's largest gas and electric service company, Pacific Gas & Electric Co. (PG & E), informed regulators that they detected a "problem" in a high-voltage line near the affected area only a few minutes before the flames started.