Mexico City, Nov 11 (EFE).- Hundreds of people turned out on Sunday to protest the decision by Mexican President-elect Andres Manuel Lopez Obrador to cancel construction of the new Mexico City airport on the basis of the results of a consultation with the public.

The demonstrators gathered at the downtown Angel of Independence plaza and marched along Paseo de la Reforma toward the capital's huge central square, the Zocalo.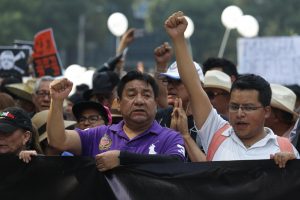 Signs with messages such as "We have to build a better Mexico, not destroy it" and "We're people, too" were carried by some of the marchers, along with one reading "AMLO, if you really love your country, don't stop its modernization," AMLO being the president-elect's initials.

The marchers, most of whom wore black, chanted slogans such as "It's a mistake to be with Obrador," a play on the popular saying "It's an honor to be with Obrador" used by the leftist politician's supporters.

On Oct. 29, Lopez Obrador announced that he would cancel work on the airport, the signature project of Mexico's current president, Enrique Peña Nieto.

He followed through on that promise after the results of a recent consultation with the public held over four days and in which 69.5 percent of the voters said "no" to the hugely costly new airport.

The demonstrators expressed their bitter opposition to the consultation process, which they said was carried out in a way that favored the president-elect's preferred option: continuing to use Mexico City's current airport but complement its functions – to prevent it from becoming overwhelmed with traffic – with the Santa Lucia airbase, which will pass from military to civilian control, and the Toluca airport.

They also said that the new airport's cancellation would result in the loss of thousands of jobs.

According to the Business Coordinator Council, 46,000 direct and indirect jobs will be lost by cancelling the project.

The march was criticized on the social networks, and on Twitter the hashtag "#MarchaFifi" quickly became popular, referring to the word popularized by Lopez Obrador ("fifi") to refer to power-holding elites who criticize him.