Ensenada, Mexico, Nov 12 (EFE).- Biologist Mauricio Hoyos has been fascinated by great white sharks since seeing "Jaws" at the age of 5, and now dedicates his life to studying them.
"I told my dad that when I saw the film it was horrible, that a lot of people left the movie theater because they couldn't stand seeing that huge beast – it had a very negative effect on everybody," he said in an interview with EFE.
But in his case just the opposite occurred – he saw it as a "perfect animal" and decided to give it a second chance by looking up all the information available at the time, which wasn't much and basically described it as a murderous creature that fed on humans.
This fame comes from long ago. The scientific name of the species, Carcharodon carcharias, which was assigned in the 19th century, refers to the beast's sharp teeth, while its other physical characteristics are equally impressive.
"It can be as long as 6.5m (21 feet) and can have more than 300 teeth at a time. Which is why it can be considered a monster," Hoyos said.
The biologist added that these sharks don't choose human beings as their prey, and in all of his three decades working with them, he has not once seen that they wanted to hurt him.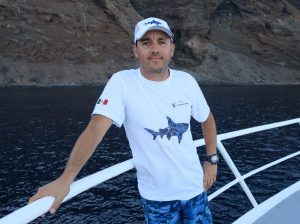 Despite that, he does recall some injuries associated with the great whites. For example, "I lost part of a finger taking a shark out of a cage" due to an accident that occurred when tying a rope, and "I was bitten by a Galapagos shark" trying to defend itself against being given an identifying mark.
Hoyos heads the WWF Alliance-Telmex Telcel Foundation project, which is dedicated to white shark conservation and research at Guadalupe Island, Mexico's western-most territory.
Thanks to that, 272 great white sharks have been identified in the area.
The life of the biologist gets lonely sometimes, since he has stayed up to five months on the island – where there is only a small community of fishermen and another of soldiers – with only a few graduate students for company.
Given that the island is over 200km (120 miles) from Baja California, his work necessarily implies a certain isolation. "We have a satellite phone. And we're supposed to have Internet, but we haven't been able to place the antenna right. We need a technician to come fix it," he said.
He and his team go out to sea every day to work, weather permitting, and dedicate themselves to their jobs, such as taking biopsies, marking sharks and placing devices in the water to track them.
To study the great white shark in Mexico, he said, he had to practically start from scratch on Guadalupe Island, but thanks to the progress made he has obtained "very important information to help protect the species."