San Francisco, USA, Nov 12 (EFE).- Thirteen more bodies were recovered Monday in the area affected by the devastating fire raging since last week in northern California, raising the death toll to 42 and making it the deadliest wild blaze in the state's history, local authorities reported.

In statements to the media, the Butte County Sheriff, Kory Honea, said 10 bodies were found in the city of Paradise, which had 26,000 inhabitants and was completely engulfed by the flames. The other three were found in the small town of Concow.

The climbing death toll has made this "Camp Fire" the deadliest in the history of California, exceeding Griffith Park Fire of 1933 in Los Angeles where 29 people died.

In addition, more than 200 people remain missing, giving rise to the fear that the number of fatalities may further increase in the next few days.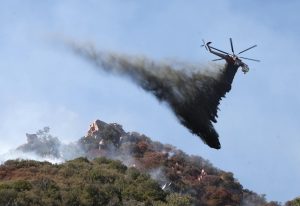 The sheriff also reported for the first time the identity of some of the deceased: Jesus Fernandez, 48, and resident of Concow; Carl Wiley, 77, and resident of Magalia, and Ernest Foss, 65, and resident of Paradise.

The fire has consumed more than 7,000 buildings, mostly homes, and razed a total of 45,700 hectares (112,927 acres) with firefighters so far having been able to contain only 30 percent of the fire.

US President Donald Trump Monday approved California's request to declare the fires as a major disaster which will offer those affected by the blaze federal aid for housing, unemployment, legal expenses and psychological treatment.

"I just approved an expedited request for a major disaster declaration for the state of California. Wanted to respond quickly in order to alleviate some of the incredible suffering going on. I am with you all the way. God bless all of the victims and families affected," tweeted Trump.

Along with the Camp Fire, another massive fire, the "Woolsey Fire", has affected southern California near Los Angeles claiming the lives of two people who were trying to flee the flames in their vehicle.

The Woolsey Fire has destroyed 370 buildings, including the homes of several celebrities such as Neil Young and Miley Cyrus, and has razed 37,600 hectares.