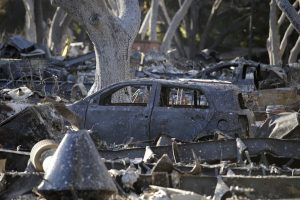 San Francisco, Nov 12 (EFE).- The heavy winds blowing across California on Monday are making firefighters' efforts to contain two large wildfires difficult and are fanning the blazes that have already taken the lives of at least 31 people, with 228 others still missing.

After more favorable weather conditions on the weekend that allowed firefighters to make significant progress against the fires that began last Thursday, strong, dry winds from California's interior once again kicked up with a vengeance on Monday.

At several points around the state on Monday, gusts of up to 70 kilometers (43 miles) per hour served to spread the Woolsey Fire near Los Angeles, which has now destroyed some 37,000 hectares (about 93,000 acres), up from 33,600 hectares late on Sunday.

Meanwhile, the Camp Fire, which is affecting the northern part of the state and is considered to be the most devastating fire ever registered in California after destroying an entire city and more than 6,700 buildings, has burned 46,000 hectares, according to the state forestry and fire prevention department, Calfire.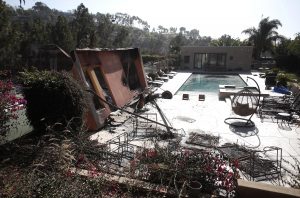 More than 4,500 firefighters are battling the Camp Fire some 280 km (174 miles) northeast of San Francisco Bay, but adverse weather conditions have prevented any real progress in the past 24 hours, with the fire still being only 25 percent contained.

Of the 31 known deaths from the fires to date, 29 bodies were found in areas affected by the Camp Fire, thus making it California's deadliest-ever forest fire along with the Griffith Park fire in Los Angeles that also killed 29 people in 1933.

The other two deaths occurred in a vehicle near the town of Malibu, outside Los Angeles, where people had started trying to evacuate the area due to the approach of the Woolsey Fire on Thursday.

In Malibu, known worldwide as the area where many Hollywood stars live, among the celebrities who have lost their homes are musician Neil Young and pop performer Miley Cyrus, according to what both stars said on the social networks.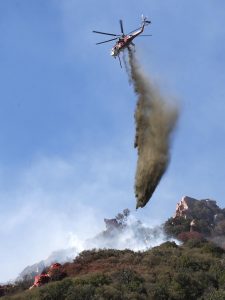 The 25-year-old Cyrus said on Twitter that her animals were safe and that was the only thing that mattered to her right now.

And Young, 73, said on his Web site that he had lost his home in the fire, although he called California a "paradise."

Other celebrities – including reality show personality Kim Kardashian West, film director Guillermo del Toro and singer and actress Lady Gaga – had to evacuate in recent days due to the proximity of the fire.

A total of some 250,000 people have had to leave their homes statewide due to the fires and reports from police are that thieves have broken into the empty houses – especially in the northern fire – and stolen assorted valuable and other items.

California Gov. Jerry Brown on Sunday formally asked President Donald Trump to issue a Presidential Major Disaster Declaration, which – if granted – would provide federal aid to help those affected by the fires with legal matters, psychological treatment, lodging and unemployment compensation, among other things.