San Francisco, USA, Nov 13 (EFE).- The two large wildfires that have been burning since nearly a week in California and which have caused at least 44 death continued to grow on Tuesday, while emergency teams are still searching for over 200 missing people.

The "Camp Fire" is already the deadliest fire in the state's history, having caused the death of at least 42 people, and also the most destructive, having destroyed more than 6,700 buildings, mostly in the city of Paradise, with 26,000 inhabitants, which were completely engulfed by flames.

Despite the efforts of more than 5,000 firefighters who, according to data from the State Department of Forestry and Fire Protection, Cal Fire, fight against the flames, the fire continued to grow last night to reach 50,500 hectares and its containment is about 30 percent.

Paradise, the town that has been nearly completely destroyed by the conflagration, is in the foothills of the American Sierra Nevada, in a dry, sunny climate that has attracted many retirees in the past half-century, which has made the population triple in the last 50 years.

Local media pointed out that many of the people who remain missing are older people, some with reduced mobility, which would have had difficulties to evacuate.

The only fatalities identified to date by the authorities are Jesus Fernandez, 48, a resident of Concow; Carl Wiley, 77, of Magalia; and Ernest Foss, 65, of Paradise.

The origin of the fire remains unknown, and Cal Fire spokeswoman Janet Upton said investigators are exploring all possible causes, "including the possibility that the fire started from a spark of electrical equipment."

The state's largest gas and electric utility, Pacific Gas & Electric Co. (PG&E), informed regulators that it detected a "problem" in a high-voltage line near the area where the fire was declared only a few minutes before the flames started.

Parallel to the "Camp Fire," another large fire burns in the southern part of the state, near Los Angeles, the "Woolsey Fire" which has caused the deaths of two people who got lost while trying to escape the flames in their vehicle.

The Woolsey Fire has destroyed at least 435 buildings, including the homes of several celebrities such as Neil Young and Miley Cyrus, and devastated some 38,800 hectares.
Incendios de California siguen creciendo en plena búsqueda de desaparecidos
San Francisco, 13 nov (EFE).- Los dos gigantescos incendios que queman desde el jueves en California y que ya se han cobrado la vida de por lo menos 50 personas siguen creciendo este martes, a la par que los equipos de emergencias mantienen la búsqueda de las personas que siguen desaparecidas.

El "Camp Fire" es ya el más mortífero de la historia del estado, al haberse cobrado la vida de por los menos 48 personas, y también el más destructivo, puesto que ha arrasado más de 8.917 edificios, en su mayoría en la población de Paradise (26.000 habitantes), que las llamas engulleron por completo.

Pese a los esfuerzos de los más de 5.000 bomberos que según los datos del Departamento Forestal y de Protección contra Incendios del estado, Calfire, luchan contra las llamas, el fuego siguió creciendo la pasada noche hasta alcanzar las 52.600 hectáreas, mientras que su contención se encuentra en el 35 %.

Paradise, la localidad que ha quedado completamente arrasada por la conflagración, se encuentra en la falda de la Sierra Nevada estadounidense, en un clima seco y soleado que en el último medio siglo ha atraído a muchos jubilados, lo que ha hecho que la población se triplicase en 50 años.

Según apuntaron varios medios locales, muchas de las personas que permanecen desaparecidas son gente mayor y varias de ellas tienen movilidad reducida, lo que habría dificultado su evacuación.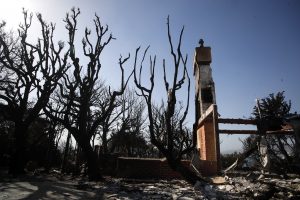 El origen del incendio sigue siendo desconocido y la portavoz de Calfire Janet Upton apuntó que los investigadores están explorando todas las posibles causas, "incluyendo la posibilidad de que el fuego se iniciase a partir de una chispa de equipamiento eléctrico".

La mayor compañía proveedora de gas y electricidad del estado, Pacific Gas & Electric Co. (PG&E), informó a los reguladores de que detectó un "problema" en una línea de alta tensión cercana al área donde se declaró el incendio solo unos minutos antes de que se iniciasen las llamas.

En paralelo al "Camp Fire", otro gran fuego quema en el sur del estado, cerca de Los Ángeles, que ha sido bautizado como "Woolsey Fire" y que se ha cobrado la vida de dos personas que se perdieron mientras trataban de huir de las llamas en su vehículo.

Además de las dos víctimas mortales, el "Woolsey Fire" ha destruido 435 edificios, entre ellos los hogares de varios famosos como Neil Young y Miley Cyrus, y ha arrasado 38.800 hectáreas.

Los servicios de emergencias sólo han podido adentrarse por el momento en un 15 % de la zona quemada, por lo que se espera que durante las próximas horas aumente significativamente la cifra de edificios destruidos, especialmente en la población de Malibú, una de las más afectadas.

Los bomberos han logrado contener este fuego en un 35 %, pero las condiciones meteorológicas han empeorado durante las últimas horas a causa de los fuertes y secos vientos que soplan provenientes de la zona desértica de Nevada y del interior del estado, conocidos popularmente como "vientos de Santa Ana".

Por su parte, el presidente estadounidense, Donald Trump, ha aprobado la solicitud de California para declarar los incendios un "desastre de especial gravedad", lo que ofrecerá a los afectados por los fuegos ayuda financiera del Gobierno federal para alojamiento, desempleo, gastos legales y tratamiento psicológico.

"Acabo de aprobar la solicitud de Desastre de Especial Gravedad para el estado de California. Quería responder rápido para aliviar un poco el increíble sufrimiento. Estoy con vosotros. Dios bendiga a todas las víctimas y familias afectadas", escribió el mandatario en su cuenta de Twitter.

Sólo unas horas antes, Trump desató la polémica al culpar a las autoridades californianas de una "absoluta mala gestión" por los incendios y amenazar con cancelar futuras ayudas federales.

Hasta ahora, el incendio más mortífero que jamás había registrado California fue el de Griffith Park en Los Ángeles en 1933, cuando murieron 29 personas.