New York, Nov 16 (EFE).- Boston Red Sox right fielder Mookie Betts and Milwaukee Brewers outfielder Christian Yelich have been selected as the winners of Major League Baseball's Most Valuable Player awards in their respective leagues for 2018.

The 26-year-old Betts (410 points in voting by the Baseball Writers' Association of America) beat out Los Angeles Angels great Mike Trout (265 points) to win the American League MVP after leading that league in slugging percentage (.640) and batting average (.346), it was announced Thursday.

The star right fielder, who helped lead the Red Sox to a league-best 108-54 record during the regular season and the franchise's ninth World Series title, received 28 of 30 first-place votes to win his first MVP award.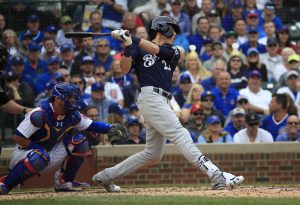 Trout, who led the league in the key OPS (On-Base + Slugging Percentages) stat for the third time in four years, was seeking his third MVP crown.

But his chances may have been hurt by his team's record (80-82) and failure to reach the postseason, as voters often cast ballots for players on winning teams.

"I mean, it means a lot," Betts was quoted as saying on MLB's official Web site. "It's definitely a special award and something that I cherish, but I think the most important thing is that we won a World Series and got to bring a trophy back to Boston."

Betts' league-best slugging was particularly remarkable considering his relatively small size – 1.75 meters (5-foot-9) and 180 pounds (81 kilograms).

The right fielder also shined once again on defense in 2018, winning a Gold Glove Award for the third straight year.

The 26-year-old Yelich likewise won in a landslide, receiving 415 points from the BBWAA members and 29 of 30 first-place votes.

Yelich had a phenomenal second half of the season, recording a .770 slugging percentage to lead the Brewers to their second-ever NL Central title.

The slugger, who played most of his games in 2018 in either left field or right field, led the NL in batting average (.326), slugging percentage (.598) and OPS (1.000).

"This season has been a crazy ride, it really has. To culminate with that, it's really hard to put into words right now, but I'm really appreciative of it," Yelich was quoted as saying on MLB's official Web site.