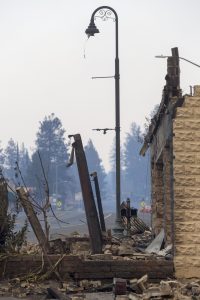 San Francisco, USA, Nov 15 (EFE).- One week after the two massive fires, which are still burning in northern and southern California, 66 corpses have been found and the number of missing persons doubled to 631 on Thursday evening, while firefighters have managed to gain some ground on the flames in the last few hours.

Butte County, in the northern part of the state, where the "Camp Fire" burns, accounts for 63 deaths – seven new on Thursday – making it the deadliest in California history, updated the list of missing persons to 631 in the evening.

This number is more than twice then on Thursday morning and almost five times as many as on Wednesday.

The majority of the disappeared reside in the town of Paradise, which had 26,000 inhabitants and was completely engulfed by the flames.

Firefighters, on the other hand, managed to advance during the last hours and are now containing the flames to 40 percent, after a couple of days in which the results for their efforts had been practically stagnant because of the unfavorable weather conditions.

According to the most recent estimates, Camp Fire has burned a total of 10,321 buildings (8,650 of them private homes) and razed 56,655 hectares.

Simultaneously to the Camp Fire, the "Woolsey Fire" which also started a week ago very close to Los Angeles, has claimed three fatalities, has burned 39,800 hectares and firefighters have managed to contain some 57 percent.

Although the origin of both fires remains unknown and the authorities are still investigating, some of those affected by the conflagration in the north have filed a lawsuit against the state's largest gas and electricity supplier, Pacific Gas and Electric Company (PG&E).

PG&E last week revealed to regulators that it detected a "problem" on a power line near the area where the fire broke out just minutes before the flames started.