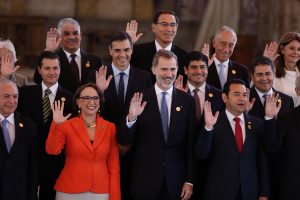 Antigua, Guatemala, Nov 16 (EFE).- The heads of state and government and representatives of 22 Ibero-American countries began their biennial summit Friday at a time when the region is going through a number of crises including Central American migrations, the turmoil in Venezuela and Nicaragua, and such challenges as global warming.
The Guatemalan host of the summit, President Jimmy Morales, welcomed the leaders to what was once the old colonial convent of Santo Domingo del Valle, now made into a hotel and several museums.
The Ibero-American chief executives will tackle an official agenda that includes such matters as sustainable development and the region's contribution to doing better in matters of gender equality, cooperation, culture and indigenous peoples, and expects to debate current affairs like the Central American migratory crisis.
Morales, who opened the debates, recalled the region's "commitment" to comply with the 2030 Agenda despite regional difficulties and diversities.
"Guatemala is a country that enjoys rich cultural diversity, which implies a big challenge for inclusion, while at the same time diversity gives us the chance to be more complementary – and we must not let our young people flee from us considering all they have to offer," he said.
The Guatemalan president also spoke of the importance of increasing economic integration in the region and "making Ibero-America an area of world leadership."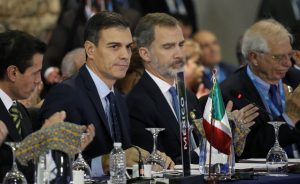 The presidents attending the event are Michel Temer of Brazil, Evo Morales of Bolivia, Martin Vizcarra of Peru, Lenin Moreno of Ecuador, Mario Abdo Benitez of Paraguay, Juan Carlos Varela of Panama, Jimmy Morales of Guatemala, Enrique Peña Nieto of Mexico, Juan Orlando Hernandez of Honduras,  Salvador Sanchez Ceren of El Salvador, and Carlos Alvarado of Costa Rica.
In attendance for Spain are King Felipe VI and Prime Minister Pedro Sanchez.
Also taking part are the presidents of Portugal, Marcelo Rebelo de Sousa, and of Andorra, Antoni Marti, whose country will organize the next Ibero-American Summit in 2020.
For different reasons, participation was canceled by the presidents of Argentina, Mauricio Macri; Chile, Sebastian Piñera; Colombia, Ivan Duque; Cuba, Miguel Diaz-Canel; Nicaragua, Daniel Ortega; Dominican Republic, Danilo Medina; Uruguay, Tabare Vazquez; and Venezuela, Nicolas Maduro.