Mexico City, Nov 15 (EFE).- Mexico's second-highest official on Thursday urged migrants from the Central American caravan who are gathering in the northwestern city of Tijuana to avoid acts of violence on the US border.

"What we want to avoid is for violence to become part of the dynamic from here onward, considering the possible intention of entering the United States in an untimely and unorderly manner," Government Secretary Alfonso Navarrete told a press conference in Mexico City.

Navarrete's statement comes after a ruckus took place on Wednesday night in the Playas de Tijuana borough, where some 150 residents, irked by the presence of Central American migrants in the area, traded shouts and insults with them.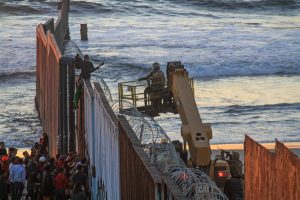 Navarrete reminded the migrants that ever since they entered Mexico on Oct. 19, the US government has maintained "an extremely hostile discourse" against them.

The Government Secretary said that the Mexican government and the CCE business federation agreed to set up job centers in Tijuana and other cities for those migrants who wish to stay in Mexico.

According to Navarrete, the only condition needed to gain access to the 7,000 to 10,000 temporary work opportunities is that the Central Americans legalize their migratory status.

He said that officials from the National Migration Institute would be present in those job centers to help the migrants file for refugee status in Mexico or request their voluntary repatriation, as some 1,500 Central Americans have already done in the last few weeks.

Navarrete said Mexico "is a country that has a long history of hospitality toward migrants" and that many Mexicans had also migrated to search for a better life, though he insisted that the Mexican government would strive to ensure "orderly and legal migration" flows.