San Francisco, USA, Nov 16 (EFE).- Local authorities said Friday that the number of persons reported missing as a result of the week-long wildfire in northern California has gone up to more than a 1000 while the death toll along with another fire in the south of the state has reached 74.

Butte County Sheriff Kory Honea, during a press conference updated the number of missing persons, which has gone up from 631 on Thursday to 1,011.

The sheriff further said that it was a dynamic list that could fluctuate every day because of the chaotic situation, since there could be some individuals who could have been counted twice or some who are safe but could not be contacted.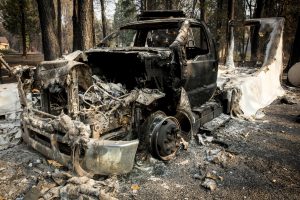 In addition to the increase in the number of missing persons, emergency services on Friday also recovered eight bodies, which brings the death toll in the Camp Fire, the deadliest in the state's history, to 71.

The other three were killed in the Woolsey Fire, which has been burning since more than a week in the southern part of the state near Los Angeles.

According to the latest data, the Camp Fire has destroyed more than 12,000 buildings, mostly in the town of Paradise, which was completely engulfed by the flames, some 57,500 hectares have been burnt down while firefighters have now been able to contain some 50 percent of it.

Despite the progress made in containing the fires in the last few hours, authorities warned that strong dry wind gusts are forecast over the weekend which would make their work more difficult, as happened earlier in the week.

Some 40,000 remain evacuated in the area, while the smoke from the fires has spread for hundreds of kilometers, heavily populated areas such as Sacramento and the area of San Francisco Bay have been under high alert due to poor air quality.

The particles found in the smoke can cause irritation and damage to lungs and eyes and public health authorities have advised people of all ages to stay indoors and only venture out in cases of emergency.

US President Donald Trump is set to visit the areas affected by the fires on Saturday and is expected to meet with some of the victims.