December 13, 1995
by Yolanda Reynolds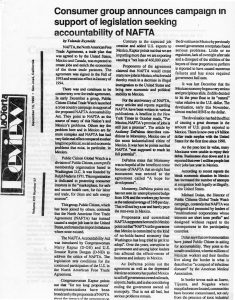 NAFTA, the North American Free Trade Agreement, a trade plan that was agreed to by the United States, Mexico and Canada, was expected to create jobs and enrich the economies of the three trade partners. The agreement was signed in the Fall of 1993 and went into effect in January of 1994.
There was and continues to be controversy over the trade agreement. In early December, a group, Public Citizen Global Trade Watch, launched a cross country campaign in support of the proposed NAFTA Accountability Act. They point to NAFTA as the source of many of this Nation's and Mexico's problems. Other say the problem here and in Mexico are far more complex and NAFTA has had very little real effect compared to other longtime political, social and economic problems that exist, in particular, in Mexico.
Public Citizen Global Watch is a division of Public Citizen, a non-profit membership organization based in Washington D.C. It was founded by Ralph Nader in 1971. This organization is dedicated to protecting consumer interests in the "marketplace, for safe and secure health care, for fair labor and trade, for clean and safe energy sources."
This group, Public Citizen, which has been joined by others, contends that the North American Free Trade Agreement (NAFTA) has instead caused a major job loss in the United States, and created an important imbalance where none existed.
The NAFTA Accountability Act was introduced by Congresswoman Marcy Kaptur (D-OH) and U.S. Senator Byron Dorgan (D-ND) to address the critics of NAFTA. The legislation sets conditions for the continued participation of the US. In the North American Free Trade Agreement.
Congresswoman Kaptur points out that "for too long proponents' misrepresentations have been broadcast by the proponents of NAFTA about the impact of the agreement on the U.S. economy.
Contrary to the expected job creation and added U.S. exports to Mexico. Kaptur points out that we are importing more than we are exporting causing a "net loss of 460,000 jobs."
Proponents of the agreement claimed that NAFTA would create many new jobs in Mexico, which would thereby result in a decrease in illegal immigration to the United States and bring new economic and political stability to Mexico.
For the anniversary NAFTA, many articles and reports regarding NAFTA have been written in various publications. A headline in the New York Times in October reads "For Mexico, NAFTA's promise of job is still just a promise." The article by Anthony DePalma describes conditions in Monterrey, Mexico one of the most industrialized cities of Mexico. It was here he points out that NAFTA "was supposed to reach its full potential."
DePalma states that Monterrey was so hopeful to the benefits to come because of NAFTA that an eight-foot monument was erected to the agreement called "A hope for development."
Monterrey, DePalma points out, has not seen its employment budge from 10% and the workers pay hovers at the national average of 3 N$ per day. That will be not buy a car and barely pays the rent – even in Mexico.
Proponents and committed NAFTA supporters here and in Mexico point out that "NAFTA is the guarantee that Mexico is committed to the kind of no-holds-barred economy that Washington has long tried to get it to admit." Over the years, corruption in government and among labor leaders has affected the effectiveness of business and industry in Mexico.
As DePalma points out the agreement as well as the depressed Mexican economy has pushed Mexico to sell off government owned railroads, airports' banks, and is also considering ending the government owned oil monopoly. That is not all bad, but serious problems remain.
A recent Wall Street analysis of the divestiture in Mexico by previously owned government enterprises found serious problems. Little or no regulation, lack of oversight after sale and a disregard of the abilities of the buyers of these properties to perform is reported to have caused numerous failures and has since required government bail outs.
It was last December that the Mexican economy began a very serious and precipitous slide. Zedillo decided to let the peso float to its "natural" value relative to the U.S. dollar. The devaluation, early this November, almost reached 85N$ to the dollar.
The devaluation has had the effect of causing a great decrease in the amount of U.S. goods exported to Mexico. There is now over a 9 billion dollar trade surplus with the United States for the first time since 1990.
As the peso lost its value, many Mexicans were unable to repay their debts. Businesses shut down and it is reported that over 1 million people lost their jobs last year in Mexico.
According to recent reports the bleak economic situation in Mexico has increased the number of attempts at emigration both legally or illegally, to the United States.
Michael Dolan, the Director of Public Citizens Global Trade Watch campaign, contends that NAFTA was designed and promoted by leaders of "multinational corporations whose interests are short term profits" and designed without regard to the consequences to the participating countries.
Dolan says that environmentalists have joined Public Citizen in asking for accountability. They point to the unsafe conditions, wherein millions of Mexican workers and their families live along the border in what is described as "a cesspool of infectious diseases" by the American Medical Association.
In border towns such as Juarez, Tijuana, and Nogales where maquiladoras are located, communities have become contaminated, not only from the presence of toxic industrial wastes, but because of the lack of proper sewage and water treatment services for the millions of new residents.
The consequences of the residential overcrowding and hazardous toxic contamination in these communities has resulted in increases in anacephalic births in a number of places. Near Brownsville, Texas and Matamoros, Mexico, scores of babies are reported to have been born with exposed or missing brains. The world's highest rate of Lupus is reported to occur in the Nogales, Arizona and Nogales, Sonora border area.
In an article by Robert Collier in the New York Times entitled, "Cleanup Along the Border Still a dream," he explains that, "bcause of Mexico's 10 month crisis and the strict free market rules imposed on the NAD Bank (North American Development Bank), forcing it to charge commercial interest rates (in Mexico 80%) and to insist projects produce revenue quickly," there has been no cleanup nor have practices changed.
In Juarez, where sewage run down City streets, and in other contaminated maquiladora towns, Collier explains "cash-strapped municipal governments may not be able to afford the loan." Adding to the problem in that 90% of the taxes that are turned over to the Federal government.
With the severe recession in Mexico, there are real fears of a serious large scale political and social upset. Pacific News Reporter, Sam Quinones, states: "beyond the top-down turmoil of political assassinations and the current and potential hot spots waiting to flare." He adds, "the old political order is unraveling even as the social effects of economic crisis become more evident."
NAFTA and the "no holds-barred free market system" had been presented to the participating countries as a panacea for economic growth and stability. For many, the promises that had engendered hope are now turning into bitterness.
According to a University of of Illinois economist David Rainey, in the article by Chronicle writer Robert Collier states, "to say the fall of the peso was caused by NAFTA simply isn't correct… but it was caused by the kinds of economic policies that NAFTA institutionalized and expanded on – the whole notion export led strategies, the elimination of the notion of managed trade, the enhancement of capitol mobility."
Rainey adds, "it increased the wave of speculative investment in Mexico, making its economy increasingly unstable."
Labor groups in the U.S. say that, what has happened is that jobs have gone to Mexico where labor earns an average of 3N$ per day. In the United States, workers have seen their wages shrink. In their research report, Public Citizens indicates that "77 million U.S. production workers saw the buying power of each work hour drop 3%.
American workers are finding work, but as independent contractors, part-time employees or temporary workers – if at all. Full time employees fear losing their jobs to the continued mergers on which companies base their expected profits increase. These increases are resulting primarily from the reduced number of employees, lower wages or fewer benefits. Too often all three measures are implemented. American workers are actually loosing their value as companies search elsewhere for cheaper, less costly workers. Public Citizen spokespersons say "we need an agreement that raises Mexican wages, not only one that drags down the U.S. standard of living."
Since the collapse of the peso it is reported that there has been an increase of 89,000 new jobs at the maquiladoras in Mexico. These jobs are welcomed since in that same time period Mexico lost 83,000 jobs.
Michael Dolan explained that Public Citizen is not advocating cutting off trade with Mexico, but says that what is needed instead of multi-national agreement – which his group  contends waters down everything to the lowest standard – that the United States should instead work out bi-lateral agreements. This he says would tailor agreements to the unique situation of the trading partners.
Dolan points to the many failures and unmet promises of the NAFTA Treaty for a new, more realistic agreement that has more promise of achieving its goals.
According to Kaptur, the NAFTA Accountability Act will Direct the U.S. President to renegotiate NAFTA if the U.S. trade balance with other parties to the agreement exceeds a 10% deficit. It directs the President to renegotiate NAFTA to mitigate the adverse effects of rapid or substantial changes in currency exchange rates of the parties to NAFTA.
It directs the President to renegotiate the terms for agricultural commodities among the parties.
Opening the Mexican market to the large mid-western grain farmers has had the effect of devastating the small grain farms in Mexico, who cannot compete with the U.S. conglomerates. This has caused a great increase in the malnutrition of families in the rural zones of Mexico. It has been reported that malnutrition in the rural zone: has increased in Mexico, resulting in 50,000 deaths of children each year.
Contributing as well to the malnutrition is the increased exploitation of previously untapped natural resources in order to increase exports and thereby bring desperately needed revenues to a Federal government in Mexico that owes millions to the IMF and Wall Street investors and also deprives Mexican families of scarce farm land.
The Act also requires the certification of gains of US. jobs and living standards attributable to NAFTA ProNAFTA analysts asserted that for every billion dollars of trade surplus that NAFTA created for the United States it could be assumed that an additional 20,000 jobs would be created. That was an attractive conclusion when the the U.S. enjoyed a $7 billion export surplus with Mexico. But two years since the trade agreement, the U.S. now has a $9+ billion-dollar import surplus. Using the assumption used to promote NAFTA the logical conclusion is that by the end of the year approximately 400,000 U.S. workers will lose their jobs.
Environmentalists, both here and in Mexico, are pleased with the Act's provision to require certification that conditions affecting public health have improved along the U.S. – Mexico border.
The Act also requires certification that increased imports into the United States are not resulting in increased importation of illegal drugs. The Transfer of drugs and the influence of powerful drug lurk in Mexico is creating problems not only, in this country, but in Mexico as well. It is reported that one of the "hot spots in Mexico is Sinaloa where "wild shootouts" occur frequently in the streets and flashy discotheques of Culiacan.
A rent scandal involving police officers from Guadalajara, who reportedly were on the $40 million a month payroll of a powerful Culiacan drug lord, revealed that the officers stripped a cocaine laden jumbo jet to hide the traffickers and the drug. The forty officers were sent to Mexico City.
Siblings of the former President (Carlos Salinas de Gortari) are now being investigated for acquiring millions and perhaps billions of dollars from drug dealing. International and Mexican investigations are ongoing.
The Act also requires verification that human rights and political rights are respected and that democratic systems exist in countries that are parties to NAFTA. In the last 14 months, 55 human rights victims were granted asylum in the United States. This is a significant increase in asylum approvals for Mexican citizens.
Reports of human rights abuses have been ongoing. Government critics and indigenous people are listed among those who most often experience human rights abuse. There are those who deny the validity of these claims.
This reporter has interviewed persons whose injuries are evident and whose accounts of abuse have been corroborated by the respected Amnesty International group, or Global Watch or both.
Finally, the Act prohibits the expansion of NAFTA to other countries until the concerns spelled out in the Act are met.
Santa Clara County labor leaders and workers and environmentalists, including member of the Sierra Club have spoken in support of the NAFTA Accountability Act.
Dolan asks that those who want more information contact Public Citizen at (202) 546-4996 or Toby Rogers at the Central Labor Council at (408) 266-3790.
Dolan suggests that those who are concerned contact their Senate and Congressional Representatives. In the Bay Area, they are Pete Stark, Zoe Lofgren, Nancy Pelosi, Sam Farr, Barbara Boxer and Diane Feinstein.
Letters may be sent to the U.S. Senate or House of Representatives in Washington D.C. 20515. © La Oferta Newspaper.