Lago Agrio, Ecuador, Nov 19 (EFE).-. British rock star Roger Waters is visiting Ecuador's Amazon region on Monday to get a first-hand look at oil pollution in that region.
"He's come to make a visit to support those affected by Texaco," organizers said in a brief statement.
The 75-year-old Waters, who is currently giving a series of concerts in Latin America and arrived in this remote city by private jet, was scheduled to visit several communities affected by pollution and to give a press conference in Quito before continuing with his "Us + Them" tour Wednesday in Bogota.
A co-founder of legendary rock group Pink Floyd, Waters is visiting an area that, according to the local indigenous population, was decimated by oil production carried out between 1964-1990 by Texaco.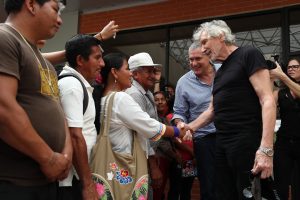 In 2011, a court in the northeastern Ecuadorian Amazon province of Sucumbios ruled in favor of 47 named plaintiffs representing 30,000 Amazon rainforest villagers and Indians who accused Texaco (acquired by Chevron in 2001) of spoiling their lands and damaging their health by dumping billions of gallons of toxic drilling waste in a 480,000-hectare (1,850-sq.-mile) jungle area.
That Sucumbios decision was upheld on appeal two years later by the National Court of Justice, although that Quito-based high court lowered the damages award from $19 billion to $9.5 billion.
An Aug. 30 ruling by a tribunal administered by the Permanent Court of Arbitration in The Hague, Netherlands, however, invalidated those rulings by the Ecuadorian judicial system.
It found that they had been marred by bribery and fraud and that the South American country had breached its obligations under a 1995 settlement agreement, which certified that Texaco had carried out remediation work and released it from further environmental liability.
The Hague tribunal also said that Ecuador must compensate Chevron for damages, although that amount will be determined in a subsequent phase of the arbitration proceedings.
Ecuadorian ex-President Rafael Correa, who was in office when the 2011 ruling was handed down, said on Sept. 7 in his wife's native Belgium (where he currently lives) that current President Lenin Moreno, a former vice president of his-turned political enemy, had entered into a pact with the oil company and that "it's obvious that Chevron is guilty and that it destroyed our rainforest."
Chevron, which had earlier secured a similar ruling from the US District Court for the Southern District of New York, blames state-owned Petroecuador (which took over sole operations in the Ecuadorian Amazon in the early 1990s) for the remaining pollution in that region.