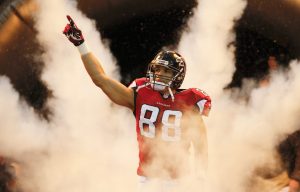 New York, Nov 21 (EFE).- Tight end Tony Gonzalez, safety Ed Reed and cornerback Champ Bailey, all in their first year of eligibility, are among the 25 candidates for induction into the Pro Football Hall of Fame.
A total of 13 defensive players, nine offensive players and three coaches – Jimmy Johnson, Tom Flores and Don Coryell – are in the mix for induction.
Flores and linebacker Zach Thomas, both previously eligible, are semifinalists for the first time.
Former Dallas Cowboys personnel chief Gil Brandt and Denver Broncos owner Pat Bowlen are finalists as contributors, and Johnny Robinson is the senior finalist.
The 25 finalists, selected from an original group of 103 candidates, will be reduced to 15 on Jan. 3.
The selection meeting will be on Feb. 2, one day before the Super Bowl is played in Atlanta, home of the Falcons.
The induction ceremony will take place at the Pro Football Hall of Fame in Canton, Ohio, on Aug 3.