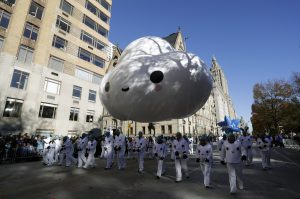 New York, Nov 22 (EFE).- Some 3.5 million New Yorkers and tourists braved unseasonably cold temperatures in Manhattan on Thursday to observe the latest edition of the annual Macy's Thanksgiving Day Parade.

Strong winds cast doubt on the viability of this year's event, which has been organized for the past 92 years in the Big Apple by the New York-based Macy's department store chain.

But New York City's police commissioner, James O'Neill, gave the go-ahead for the event.

"Parade's a go, the winds are cooperating, so all the balloons are going to be at their regular heights. It will be a great day for everyone," he said.

Giant balloons representing cartoon, film and video-game characters flew above the streets of Manhattan, while floats with themes ranging from the children's TV series Sesame Street to safari animals to cheerleaders rolled down the street, many of them carrying singers and other recording artists.

Since November 1924, the Macy's Thanksgiving Day Parade has been synonymous with the start of the holiday season.

The low temperature in New York City's iconic Central Park on Thursday was -7 C (19 F), making this year's Thanksgiving Day one of the coldest in that metropolis since records began to be kept.