By Eduard Ribas i Admetlla

Mexico City, Nov 24 (EFE).- Without yet being sworn-in as president of Mexico, Andres Manuel Lopez Obrador has promoted a referendum for this Saturday and Sunday on a battery of questions that submit to public opinion fundamental rights like pensions, scholarships and healthcare.

Among the 10 projects being considered are infrastructure projects like the Maya Train in the southeastern part of the country, but also six social programs beneficial to seniors, students and the disabled.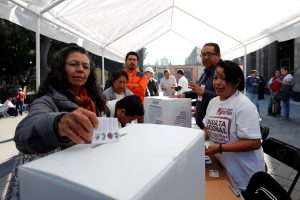 While Lopez Obrador has positioned himself in favor of these initiatives, the coordinator of the Center for Political Studies at the National Autonomous University of Mexico (UNAM), Khemvirg Puente, considered that the referendum "creates a bad precedent" whose whole purpose is to create an image of "being close to the people."

"Doubling the pensions of all adults over age 68…giving scholarships to all students in public schools of upper intermediate level" and "providing free Internet access in public spaces" are some of the projects of the referendum.

Other enterprises are to "award scholarships and job training to 2.6 million young people who today have no chance either to study or find work…guarantee healthcare and medicines to all who lack health services" and "grant pensions to 1 million disabled people."

These are some particularly sensitive measures in a country that, according to official data, has 53.4 million people living in poverty, or 43.6 percent of the population, a figure that some experts raise to more than half of all Mexicans.

For that reason, Lopez Obrador's referendum has aroused criticism, both for submitting important social projects to an informal referendum and for doing it with slanted questions that lure people into voting "Yes."

"It's a publicity strategy that seeks to legitimize the opinions of the new government," Puente said, adding that such a vote "isn't serious enough to be called a referendum."