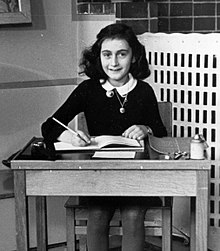 By Lina Broydo
As we sat down to a Thanksgiving dinner this week and expressed our thanks for our life enriched by family, love, peace and good health, I wanted to express my gratitude to Maestro Michael Tilson Thomas, known to the fans and admirers of his amazing talent and personality as MTT, and the San Francisco Symphony for performing MTT's composition of "From the Diary of Anne Frank" written as the "Music As a Human Right" to commemorate the 70th Anniversary of the United Nations Universal Declaration of Human Rights.
The November 15–18 & 23-25 concerts feature the first San Francisco Symphony performances of "From the Diary of Anne Frank" Tilson Thomas' dramatic work for narrator and orchestra based on the historic diary kept by Anne Frank during the Nazi occupation of the Netherlands.
It was a very emotional evening at Davies Symphony Hall and as the audience was politely asked to be silent since the concert was recorded live for future release on SFS Media, we obliged with a deafening pianissimo completely under the hypnotizing spell of MTT's mesmerizing music, the SF Symphony playing superbly under the brilliant baton of Maestro Thomas and the eloquent narration by Isabel Leonard, the NY Metropolitan Opera mezzo soprano who conveyed the voice of Anne Frank while reading her letters to her imagined friend Kitty.
As posted in the concert's Playbill program: "From the Diary of Anne Frank" was originally composed to respectfully remember the stories of Holocaust victims as given voice in this extraordinary book and as sympathetically recounted by Audrey Hepburn. I grew up hearing these, and stories of earlier atrocities, that occurred throughout Eastern Europe. It was anti-Semitic attacks that played a great part in my family fleeing the Ukraine. These events, and the danger of their reoccurrence, was the subject of many of the plays in the repertoire of their Yiddish theater in America" says MTT.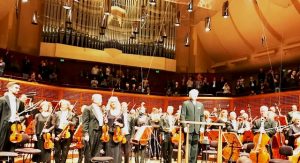 "I wrote this piece from the perspective of looking back at events that seemed to have come to an end. Sadly, the recent attack in Pittsburgh has reminded us all of the intensity of suspicion and hatred directed at Jews and other minority communities in our country" adds Maestro Thomas.
"I haven't performed this piece in more than twenty years and was wondering how I would react to its vulnerable musical language. Hearing it now I am grateful to have had the opportunity, as a much younger man, to reach out and bear witness to the musical language of so many bygone worlds, so much of which I heard in my parent's home. Its message, thorough Anne Frank's words, remains as meaningful today as ever" concludes Michael Tilson Thomas Sketched starting in late summer of 1989 and finished in the last two weeks of December of that year, "From the Diary of Anne Frank" was commissioned by UNICEF. Michael Tilson Thomas premiered and conducted his composition on March 19, 1990 with New World Symphony with Audrey Hepburn in Philadelphia. An ensuing tour included performances in Chicago and Houston, culminating in a performance at the General Assembly of the United Nations in New York.
On May 30, 1991 the revised version was performed by Audrey Hepburn and the London Symphony Orchestra with MTT conducting.
We all are familiar with the tragic and painful life story of Anne Frank, a writer, journalist and poet who perished and died of typhus at the young age of fifteen at the Begen-Belsen concentration camp in March of 1945. On her thirteenth birthday Anne Frank's favorite gift was a blank book in a red, brown and white plaid cover which eventually changed the historiography of World War II.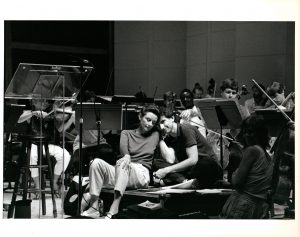 That was the day Anne Frank began keeping a diary. To ease the flow of words and to allow for excursions into autobiography beyond the events of the day, she cast the entries in the form of letters to an imaginary friend Kitty. Anne Frank's diaries are translated from Dutch to many languages all over the world. The complete text in the Diary of "Anne Frank: The Revised Critical Edition" was published in 2003 by Doubleday.
The letters were read by Audrey Hepburn to the music of MTT's composition of "From the Diary of Anne Frank" performances. "The work is a melodrama in the form of symphonic variations. It was written for Audrey Hepburn. Audrey had grown up in occupied Holland; she was exactly the same age as Anne Frank and identified strongly with her and with the suffering of all children. This work was written as a vehicle for Audrey in her role as an Ambassador for UNICEF" explains MTT.
"I realized that so much of my composition is a reflection not only of Anne Frank, but of Audrey Hepburn. Her simplicity, her deeply caring nature, the ingenuous sing-song of her voice are all present in the phrasing by the orchestra. The work would never have existed without her, and it is dedicated to her."
INSIDER INFO: from Music Director Michael Tilson Thomas: "From the Diary of Anne Frank" takes its shape primarily from the diary passages selected and read to me by Audrey Hepburn. While some of the words concern tragic events, a great many of them nevertheless reflect the youthful, optimistic, inquisitive and compassionate spirit of their author. Above all, I wanted these qualities to come through in the piece and so have derived all the themes of this work from that most beautiful of hymns to life, the Kaddish"
Bravo and thanks Maestro Michael Tilson Thomas and the San Francisco Symphony.
Tickets and Information
Prices ranges from $20 to $156
415-864-6000
sfsymphony.org
Davies Symphony Hall
201 Van Ness Avenue in San Francisco
* Photos of Anne Frank, Audrey Hepburn and Michael Tilson Thomas courtesy of SF Symphony
* Credit to Michael Steinberg, the SF Symphony's Program Annotator
* The San Francisco Symphony's role in the Bay Area community is currently depicted at an exhibit at Davies Symphony Hall through November 25, 2018 in the First Tier Lobby.