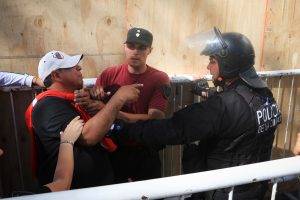 Buenos Aires, Nov 25 (EFE).- 30 People who were arrested during the riots on Saturday in Buenos Aires for attacking and resisting authority outside the Monumental stadium of River Plate, when the team was going to play the final match of the Copa Libertadores against Boca Juniors, were released Sunday.

Sources from the Public Prosecutor's Office of Buenos Aires informed that the 30 accused were released after their statements were taken and because all of them did not have a criminal record.

However, they are subject to a precautionary measure of not being able to approach the Monumental Stadium within a radius of 500 meters until their criminal proceedings are completed.

If they do not comply with this restriction, "their freedom will be immediately revoked and they will be detained again," the sources said.

The process is directed by the prosecutor Adriana Bellavigna, who accuses the now released fans of attack and resistance to authority and the precautionary measures were approved by Judge Maria Julia Correa, head of the Criminal, Violations and Misdemeanors Court 28 of the Argentine capital.

The second leg of the final of the Copa Libertadores, which was to be held on Saturday at the River Plate stadium, had to be postponed by CONMEBOL after attacks by fans of River Plate against Boca Juniors players when they arrived on their bus, leaving several players injured.

Boca formally requested that CONMEBOL (South American Football Confederation) suspends the match, considering that the game must be played under conditions of "equality", and asked to apply a sanction against River Plate.

Finally, the president of CONMEBOL Alejandro Dominguez confirmed that the second final of the Copa Libertadores is still postponed because "equal conditions" for both teams are not guaranteed.