Mexico City, Nov 25 (EFE).- Mexico will deport the migrants who on Sunday tried to cross the US border wall at several points in Tijuana in a series of incidents that led US police to fire tear gas to disperse them, without – apparently – causing any injuries.

"The National Migration Institute (INM) is going to act and proceed with the immediate deportation of people" who participated in these incidents, Mexican Government Secretary Alfonso Navarrete told Milenio TV on Sunday.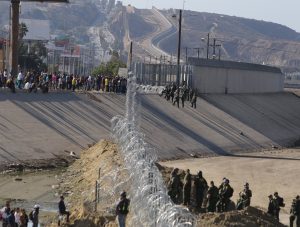 According to the minister, a small group of troublemakers broke away from a group of several hundred migrants who on Sunday were heading peacefully to the El Chaparral border crossing point on the border between Tijuana, Mexico, and San Ysidro, California.

In small groups, dozens of migrants with the Honduran caravan that recently arrived in northwestern Mexico broke away from their planned route, pushed through a police fence and tried to climb the border wall at several points, although ultimately they were repelled by US border police firing tear gas.

"The people we've identified as violent persons who violated the Mexican legal order will be processed (for deportation) in conformity with the law and the Constitution, respecting all the rights that they may have" but with "firmness," said Navarrete, who lamented the fact that these mainly male "provocateurs" convinced migrant women and children to participate in the incident whereby they tried to illegally get into the US.

He said that at first the migrants' march toward El Chaparral in Tijuana had been an "orderly act" and had been agreed to with the US government, from which they were intending to apply for asylum.

But some groups acted "violently and in an untimely manner," leading the US border security forces to use tear gas.

"We are certain that not a single person was injured by a firearm," said the secretary, who added that Mexican and US authorities were in contact, adding that the US had "given a very aggressive response (in the face of) a violent act" by the migrants.

Navarrete said that a good portion of the migrants had withdrawn from the area and many of them had returned to the shelter housing them in Tijuana.

In the wake of the incidents, Mexican authorities will strengthen several border points with additional federal security forces, he said.

For its part, the US government decided to close the San Ysidro Port of Entry, the busiest such border crossing point in the world.

Thousands of mainly Honduran migrants who traveled north from their country over the past few weeks are waiting in the Mexican border cities of Tijuana and Mexicali to request asylum in the US.