Tijuana, Mexico, Nov 25 (EFE).- Hundreds of migrants with the Central American caravan on Sunday came to the San Ysidro border crossing point to request US asylum but a number of them broke away from the main body to try and cross the border wall at other points.

US border police fired tear gas to drive them away.

"Some friends stopped to try and jump over (the wall). And they fired a (tear gas) bomb at us and an American made signs like he was going to kill us," Alexis, a Honduran migrant caravan member, told EFE.

Hundreds of migrants on Sunday broke through a Mexican Federal Police fence with the aim of getting to the El Chaparral border crossing point linking Tijuana, Mexico, with San Ysidro, California.

A group of them climbed the first border fence dividing the two nations, whereupon – EFE determined – US border police fired tear gas, forcing the majority of them to retreat.

So far, no member of the migrant caravan has been able to set foot on US soil.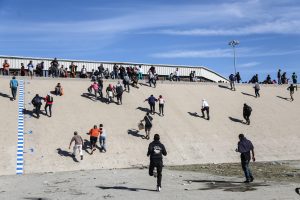 After the incident, the US government decided on Sunday to close the border at the San Ysidro Port of Entry.

US Customs and Border Protection reported on the social networks the closure of the San Ysidro POE, the most heavily used border crossing point in the worldwith some 110,000 people legally entering the US there each day.

Last Monday, US authorities closed the same crossing point amid reports that some of the caravan members who had arrived in Tijuana from Honduras were intending to break through the border post to get into the US, EFE confirmed with CBP officials.

Meanwhile, on the Mexican side there were several confrontations between the migrants and security forces, although so far no serious incidents have been reported there.

Some of the migrants evidently tried to calm the situation down in the hope of preventing the incident from negatively affecting their aim of being able to request asylum in the US.

There are reportedly some 7,000 mainly Honduran migrants waiting in the Mexican border cities of Tijuana and Mexicali to request US asylum.