Washington, Dec 3 (EFE).- President Donald Trump on Monday hailed the temporary trade truce he reached with China on the weekend as a "big leap forward" as Wall Street jumped upwards on the news.
"My meeting in Argentina with President Xi of China was an extraordinary one. Relations with China have taken a BIG leap forward! Very good things will happen. We are dealing from great strength, but China likewise has much to gain if and when a deal is completed. Level the field!" said Trump on his Twitter account on Monday morning.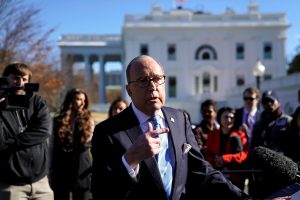 Trump met on the weekend with Xi at the G20 Summit in Argentina, a highly anticipated meeting at which the two leaders agreed not to impose additional tariffs on each other's goods for at least 90 days.
The meeting had been considered a key opportunity to reduce trade tensions between the two countries after they began a trade war last July, a situation that as it has ratcheted upwards in recent months has roiled international markets.
At the meeting, the US and China agreed to "immediately" begin negotiations on structural changes in the Chinese economy, among other issues, the White House said.
Both nations will make an effort to complete the talks "in the next 90 days," and during that time Trump agreed to leave the tariff rate on some $200 billion in Chinese products at 10 percent and not raise that level to 25 percent on Jan. 1 as he had previously threatened to do.
Louis Kujis, an analyst for Asia with the Oxford Economics consulting firm, said that it is probable that the truce was due mainly to a change in mindset, possibly temporary, in the US.
"Room for agreement on much of the substance (is) rather narrow, it is fragile. Nonetheless, the postponement of tariff hikes and the resumption of dialogue and negotiations are a positive, for the economy and asset markets alike," said Kujis in a communique.
As had been expected, investors reacted positively to the news of the trade truce and Wall Street opened the trading day on Monday with strong gains, with the Dow Jones Industrial Average up some 1.23 percent, although those gains had tapered off somewhat by midday.
So far, the US has imposed significant tariffs on Chinese products valued at some $250 billion since July and Trump had threatened to levy higher tariffs on another $267 billion worth of Chinese goods.
China exported products worth some $506 billion to the US in 2017.
Meanwhile, Beijing had retaliated by placing reciprocal tariffs on more than $60 billion worth of US imports, almost half of the $130 billion in goods and mainly agricultural products it bought from the US last year.
Despite the enthusiasm expressed by Trump over the deal, the Chinese government on Monday reacted with caution to the trade truce and provided no further details about the agreement.