Washington, Dec 5 (EFE).- US former head of state George W. Bush on Wednesday fondly recalled his late father George H.W. Bush, the 41st president of the United States, saying in a tearful eulogy here Wednesday that he had lived life to the fullest and had the ability to laugh at himself.
Bush said at the state funeral at the National Cathedral in Washington that his late father, who died on Friday in Houston at the age of 94, was a person of boundless energy.
"I once heard it said of man that the idea is to die young as late as possible," the 43rd president said at the start of his eulogy, before talking about his father driving his boat at high speeds in the Atlantic
Ocean at age 85 "with the Secret Service boats straining to keep up" and parachuting out of an airplane at age 90.
"He loved to laugh, especially at himself. He could tease and needle but never out of malice. He placed great value on a good joke," Bush said.
He added that his father cherished the gift of life because he nearly died of a staph infection as a teenager and also survived a brush with death when he was rescued on a life raft after his plane was hit during World War II.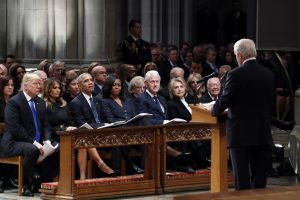 Bush said his father had served as president from 1989 to 1993 with dignity and honor.
"He showed me what it means to be a president who serves with integrity, leads with courage and acts with love in his heart for the citizens of our country," Bush Jr. said.
The former head of state also recalled the pain that his late parents (Barbara Bush died in April of this year) felt when their second of six children, Robin, died of leukemia at the age of three in 1953 (when George W. Bush was seven).
"We only learned later that Dad, a man of quiet faith, prayed for her daily. He was sustained by the love of the Almighty and the real and enduring love of her Mom. Dad always believed that one day he would hug his precious Robin again," Bush said.
The ex-president concluded his eulogy by tearfully describing George H.W. Bush as "the best father a son or daughter could have."
"In our grief, let us smile knowing that Dad is hugging Robin and holding Mom's hand again."
Bush delivered his eulogy to an audience that included US President Donald Trump, three former US heads of state – Barack Obama, Bill Clinton and 94-year-old Jimmy Carter – and former first lady and ex-Secretary of State Hillary Clinton.
Bush's remains are being flown Wednesday to his home state of Texas.
Following more memorial services in Houston, he will be buried at the George Bush Presidential Library and Museum in the nearby town of College Station next to his wife and former first lady Barbara Bush.