By LIna Broydo
"Home for the Holidays" with San Jose State University (SJSU) Choraliers
December 8 at 7:30 p.m.
No exams. No tests. No stress. Just fun, singing and music in addition to the sing-a-long with the award-winning SJSU Choraliers & Concert Choir as they perform a number of holiday season classics at the architecturally stunning Mission Santa Clara.
Under the leadership and orchestration of the brilliant Dr. Jeffrey Benson, SJSU Music and Choir Director, this annual Home for the Holidays concert is a joyous music and singing occasion for the entire family ages 1 to 99.
Even Santa is practicing his vocal chords. The Choral Program is an outstanding nationally and internationally recognized department of the SJSU School of Music and Dance. Happy Holidays!
Tickets and Information
Prices range from $10 to $35
866-811-4111
Mission Santa Clara
500 El Camino Real in Santa Clara
SFMOMA Bids Farewell to Beloved Serra Sculpture
Now through December 24, 2018
The time has come to say goodbye and wish bon voyage to Sequence, the beloved and impressive Richard Serra sculpture that is leaving the spectacular SFMOMA grand lobby, its home since it was installed as the first artwork in SFMOMA's Snohetta-designed expansion in 2016.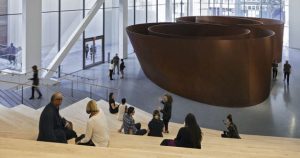 Sequence is travelling south to be re installed at the Iris-& B. Gerald Cantor Center for Visual Arts at Stanford University in Palo Alto.
But the SFMOMA lobby will not stay empty for long as it will be showcasing Next, French artist JR's massive video mural. Before the sculpture is moving to Stanford, visit SFMOMA, sit on the grand staircase and view this monumental work of art.
Tickets and Information
Free admission to the Roberts Family Gallery
sfmoma.org
SFMOMA
151 Third Street in San Francisco
Photo courtesy of SFMOMA
Soccer Superstar Hosts a Soccer Camp to Benefit Camp Fire Victims
December 13-15
The Pleasant Valley High School in Chico will be the site for a three-day Soccer Camp hosted by the EarthQuakes San Jose forward Chris Wondolowski and Chico State Teammates as a benefit to Camp Fire survivors.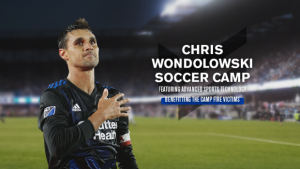 The camp will feature a coaches workshop led by Advance Sports Technology on Thursday, Dec. 13, a players, parents and coaches workshop followed by a meet and greet with Wondolowski on Friday, Dec. 14, and a soccer camp led by Wondolowski and his former Chico State teammates on Saturday, Dec. 15.
Attendees do not need to RSVP in advance, but can pay the $50 participation fee via the GoFundMe page ahead of the events. Participants can also make the donation at the events.
Quakes forward Chris Wondolowski and his teammates from Chico State will lead soccer players of all ages in drills and activities The soccer camp is free for victims of the Camp Fire. Camp participants are asked to make a $50 donation with all proceeds going to the North Valley Community Foundation. Saturday's camp provides soccer players of all ages the opportunity to learn from U.S Men's National Team and Quakes forward Wondolowski.
An alumnus of Chico State, Wondolowski leads Major League Soccer in many categories, including goals for one club (140), road goals (67) and double-digit goals scored in consecutive seasons (eight). This is a dream for all the soccer players and soccer fans for a great cause.
Information
Any questions regarding the camp should be sent to campfiresoccercamp@gmail.com
Pleasant Valley High School – 1475 East Avenue in Chico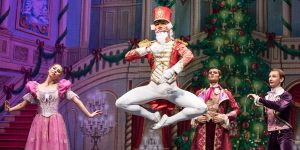 Moscow Ballet Great Russian Nutcracker
December 16 at 3 p.m. and 7 p.m.
Dazzling….. Gorgeous….Effortly graceful… Need I say more? And that's what the ballet critics say. Now it is your turn to form an opinion.
Celebrate this holiday season with the one and only Moscow Ballet's Great Russian Nutcracker! Featuring brand new over-the-top production with world-class Russian ballet artists, sparkling sets, larger than life Puppets, Nesting Matryoshka Dolls and gloriously hand-crafted costumes.
The 2018 tour which included performances in 150 cities across the US and Canada, is culminating with the fabulous shows in California with Cupertino is on their stopover for you to enjoy and marvel at this exquisite ballet staged by the Moscow Great Russian Ballet Nutcracker which makes young Clara's dreams come true.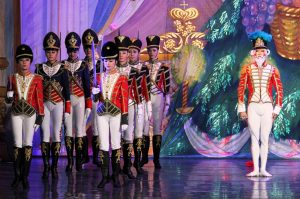 Tickets and Information
Prices range from $23 to $98
800-745-3000
moscowballet@nutcracker.com
www.ticketmaster.com/cupertino
Flint Center
Cupertino
Photos courtesy of Moscow Ballet's Great Russian Nutcracker