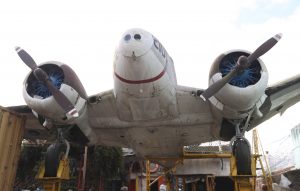 Montevideo, Dec 10 (EFE).- A painstakingly reassembled 1953 Beechcraft twin-engine plane looms above a junkyard in the Montevideo neighborhood of La Teja, where it has been an attraction for adults, children and foreign tourists alike for more than 35 years.
Juan Carlos Ibarra, owner of the Aurora yard, told EFE that the aircraft was acquired by his late father, Ruben, in 1984 when the navy auctioned off the Beechcraft, which had been used for search and rescue operations and was being cannibalized.
"When we saw it, we felt it couldn't be allowed to go to waste," Ibarra said. "My father bought it and decided to reassemble it. Everyone was telling him 'you're crazy, how are we going to put an airplane together in a garden'?"
The family, however, did not give up and managed to reassemble the airplane in six months with the help of eight other people, a "painstaking job completed with cooperation and ingenuity," Ibarra said.
The idea of bringing the aircraft to the working class neighborhood was to give children and others a chance to get close and inspect the plane, which now rests on yellow-painted steel supports.
For the past 45 years, Aurora has done business buying and selling all kinds of metal parts and, according to its owner, "everything has come to us by chance."