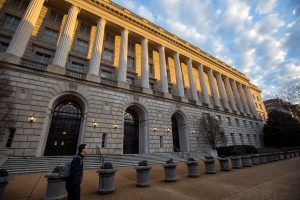 Washington, Jan 8 (EFE).- The National Governors Association, which represents all the nation's governors, both Republicans and Democrats, has asked President Donald Trump and congressional leaders to "immediately" end the partial government shutdown and resolve their differences.
In a letter dated Monday and published on Tuesday, the governors cite the negative effects of the partial shutdown both on federal employees – mentioning the roughly 800,000 of whom have been idled and are receiving no paychecks – and on the country's economy.
They also reproach the president and lawmakers for the use of this measure as a means to gain legitimacy amid political disagreements.
"It is imperative that you reopen the government now and, then, reach across the aisle to find a solution that will end the current impasse," said the governors, signed by organization chair and vice chair, Govs. Steve Bullock (D-Mont.) and Larry Hogan (R-Md.), respectively, for the group, representing the 55 governors of all US states and territories.
"Governors stand united in telling the federal government to open the doors of currently shuttered agencies while you find a long-term, bipartisan compromise on the issues that currently divide Washington," the letter stated.
According to the governors, the partial government shutdown affects nine federal departments and dozens of smaller agencies with which the administrations of the states must cooperate on a daily basis.
The message was published on the same day that Trump will address the nation in a televised prime-time speech to discuss the situation on the US border and the government shutdown, an address that will be replied to afterwards in a TV rebuttal by Democratic congressional leaders Nancy Pelosi and Chuck Schumer.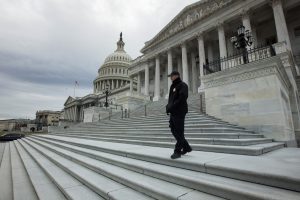 Gobernadores demócratas y republicanos se unen contra el cierre del gobierno
Washington, 8 ene (EFE).- La Asociación Nacional de Gobernadores, que aglutina a líderes republicanos y demócratas, solicitó al presidente, Donald Trump, y a los líderes del Congreso que terminen "inmediatamente" con el cierre de gobierno y resuelvan sus diferencias.
En una carta con fecha del lunes y publicada hoy, los gobernadores citan los efectos negativos del cierre parcial de la administración tanto para los empleados federales, que permanecen sin cobrar, como para la economía del país.
También reprocha el uso de esta medida como una forma de ganar legitimidad en desacuerdos políticos.
"Es imperativo que vuelvan a abrir el gobierno ahora y, luego, que recorran el camino para encontrar una solución que ponga fin al actual callejón sin salida", solicitaron los gobernadores en la carta, firmada por el presidente y vicepresidente de la Asociación, Steve Bullock (demócrata) y Larry Hogan (republicano).
Ambos políticos representan a un grupo que aglutina a los 55 gobernadores de los estados y territorios de la nación.
"Los gobernadores se han unido para decirle al gobierno federal que abra las agencias que actualmente están cerradas, al tiempo que se encuentra un compromiso bipartidista a largo plazo sobre los temas que actualmente dividen a Washington", indicaron.
Según los gobernadores, el cierre parcial de gobierno afecta a "nueve departamentos federales y docenas de pequeñas agencias con los que la administración de cada estado coopera a diario".
Además mencionaron que "aproximadamente 800.00 trabajadores federales trabajan sin cobrar o están suspendidos".
El mensaje llegó el mismo día que Trump se dirigirá al país en un discurso televisado en horario de máxima audiencia para hablar sobre la situación en la frontera con México y el cierre de gobierno, y que será contestado a continuación con la replica de los líderes demócratas en el Congreso, Nancy Pelosi y Chuck Schumer.