Washington DC, Feb 8 (EFE).- The President of the United States announced late Friday that his second summit with North Korean leader Kim Jong-un will take place in Vietnam's capital Hanoi on the previously announced dates of Feb. 27 and 28.

"My representatives have just left North Korea after a very productive meeting and an agreed upon time and date for the second Summit with Kim Jong Un," Donald Trump announced on his Twitter account.

"It will take place in Hanoi, Vietnam, on February 27 & 28. I look forward to seeing Chairman Kim & advancing the cause of peace!" he added.
In a second Twitter message, Trump said that "North Korea, under the leadership of Kim Jong Un, will become a great Economic Powerhouse."

"He may surprise some but he won't surprise me, because I have gotten to know him & fully understand how capable he is. North Korea will become a different kind of Rocket – an Economic one!" Trump added.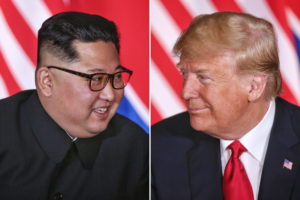 The new details of the summit Trump announced on Friday were agreed upon by the US special envoy for North Korea, Stephen Biegun, with his counterpart, Kim Hyok-chol, in Pyongyang.

Biegun traveled to Pyongyang on Feb.6 after passing through Seoul, where he met with senior South Korean security officials.

The Hanoi summit will be the second to be held by Kim Jong-un and Trump after the first one, held last June in Singapore, where they agreed to work for the denuclearisation of North Korea in exchange for Washington guaranteeing the continuity of the regime that controls that country.

However, the dialogue between the two countries has been considered stalled since that meeting in Singapore.

Trump already had announced this second summit with Kim Jong-un on Feb.5, during his State of the Union address, as part of a "bold new diplomacy" with which his government has embarked on a "historic push for peace on the Korean peninsula." But he only mentioned then that it will be held in Vietnam, not in which city.

"If I had not been elected President of the United States, we would, right now, in my opinion, be in a major war with North Korea," he said during his State of the Union speech.