Caracas, Feb 20 (EFE).- Self-proclaimed acting president Juan Guaido said Wednesday his supporters will mount peaceful demonstrations at military bases across Venezuela to demand that the armed forces allow the entry of aid stockpiled in neighboring countries.
"We are going to gather at the barracks in a peaceful, very powerful way," Guaido said during a meeting with taxi drivers in the capital's affluent Chacao area.
"We will go to each one of these posts to demand humanitarian aid," he said.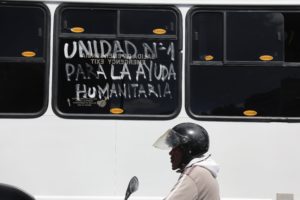 President Nicolas Maduro has barred the entry of the supplies, denouncing the US-led aid initiative as a prelude to military intervention by Washington.
Guaido says that starting Saturday, volunteers will bring into Venezuela the aid being gathered in the Colombian border city of Cucuta, the Brazilian border state of Roraima and the island of Curaçao.
Guaido did not say if he will travel to any of the border points on Saturday where the opposition plans to try to bring in the aid, though vowing he would be "in the streets."
"We have said: everyone into the streets again," he told the gathering in Chacao.
The opposition insists that oil-rich Venezuela is experiencing a humanitarian crisis and has made an international appeal for donations.
Maduro, however, says that the donations carry "the venom of humiliation" and has arranged to have supplies brought in from allies such as Cuba, China and Russia to address shortages of medicines and other necessities.
Cucuta is linked to the Venezuelan city of San Cristobal by the Tienditas, a modern bridge completed in 2016 that has never been opened to traffic amid ongoing quarrels between Bogota and Caracas over migration, smuggling and cross-border crime.
As the US shipments began to arrive in Cucuta, the Venezuelan army parked large vehicles on their side of the Tienditas, which was already bisected by mental fencing.
Guaido again urged the military to allow the entry of the aid and put themselves "on the side of the constitution."
He said that the opposition would bring in the supplies via both land and sea, mentioning Puerto Cabello in the coastal state of Carabobo.
On Tuesday, the military suspended marine and air traffic between Venezuela and the neighboring islands of Aruba, Bonaire and Curaçao.
Guaido, the speaker of the opposition-controlled National Assembly, proclaimed himself interim president on Jan. 23, a day after US Vice President Mike Pence encouraged him to take that step and assured him of Washington's support.
US President Donald Trump quickly recognized Guaido and roughly 50 other countries have followed suit, including Canada, Colombia, Argentina and Brazil, as well as major European powers France, Germany, Spain and the United Kingdom.
Those nations agree with the Venezuelan opposition that Maduro's May 2018 re-election victory was a sham.