Asuncion, Mar 1 (EFE).- The speaker of Venezuela's opposition-controlled legislature, who faces possible arrest if he returns to his homeland, was received Friday with head-of-state honors on a visit to Paraguay.
Juan Guaido, who proclaimed himself Venezuela's interim president last month and has been recognized as such by the United States and around 50 other countries, was welcomed at the presidential palace by Paraguayan head of state Mario Abdo Benitez.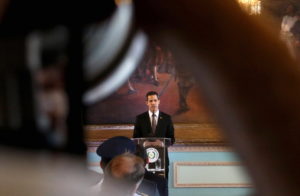 Abdo Benitez, whose conservative administration severed diplomatic ties with Venezuela after leftist President Nicolas Maduro was sworn in on Jan. 10 for a second term, accompanied Guaido last week during efforts in the Colombian city of Cucuta to deliver humanitarian aid into Venezuela.
Guaido arrived in Paraguay from Brazil, where he met on Thursday with rightist President Jair Bolsonaro.
He may also travel on Saturday to Argentina, according to sources close to the Venezuelan opposition leader, who said Thursday in Brazil that he would return to his homeland on Monday at the latest despite his legal problems there.
Guaido, who says Maduro's re-election victory last May was fraudulent and is calling for a new vote, has been barred from leaving Venezuela as part of a probe into his alleged role in "serious crimes that threaten the constitutional order."
After his meeting with Abdo Benitez, Guaido vowed Friday that Venezuela's opposition will continue to organize mass demonstrations until the oil-rich country is once again "a strong and free democracy."
"We're going to keep mobilizing on the streets of Venezuela in spite of the threats, even death (threats)," he added.
Guaido acknowledged that he could be jailed for leaving Venezuela in defiance of a travel ban, which was imposed as part of the investigation authorities launched after he proclaimed himself interim president at a mass rally in Caracas on Jan. 23.
That self-proclamation came after the National Assembly, the unicameral legislature that Maduro effectively sidelined by creating a new legislative body in 2017, found that the leftist president had violated the constitution and was a "usurper of power."
While in Colombia, Guaido led an operation last Saturday that unsuccessfully attempted to deliver humanitarian aid from the border city of Cucuta into Venezuela, which is suffering from food and medicine shortages and hyperinflation.
Maduro has rejected the aid, saying it is a Trojan horse and that he would be paving the way for a United States-led military intervention if he does not use his army to block it from entering from Colombia and Brazil.
Maduro also says economic warfare by the US, including a recent move to impose crippling sanctions on Venezuela's oil industry, is to blame for the country's economic problems.
While the US, Brazil, Colombia, Argentina, Canada and several of the largest European countries – save Italy – all recognize Guaido as Venezuela's interim head of state, Russia, China and India are among the dozens of nations that regard Maduro as the legitimate president.