Washington, Mar 4 (efe-epa).– At least 23 people died on the weekend, including several children, and dozens were injured by tornadoes that lashed the state of Alabama, Lee County Sheriff Jay Jones told the media on Monday.
Jones said in a Monday press conference that it looked "as if someone had taken a blade and just scraped the ground," adding that once the damage could assessed at daybreak on Monday it appeared to be "catastrophic."
Authorities had issued a tornado watch for the area about noon on Sunday and the first tornado warning for Lee County was issued at 2:58 pm with the first reports of damage coming a mere five minutes later, according to CNN Meteorologist Gene Norman, as per National Weather Service data.
Apparently two tornadoes swept through Lee County within an hour, Norman said, with a second tornado warning being issued at 3:38 pm and damage reports coming in 13 minutes later.
Jones said that the death toll had been raised to 23 and warned that the tally could rise higher as rescue and recovery teams comb through the affected areas looking for survivors and bodies.
Most of the victims were in the vicinity of Opelika, a city of 26,000 located in east central Alabama near the border with Georgia.
On its Web page, the East Alabama Medical Center said that it had admitted at least 60 people injured by the tornadoes but spokesman John Atkinson said that only four remained hospitalized on Monday morning.
According to the National Weather Service, about a dozen tornadoes touched down on Sunday afternoon in Alabama and Georgia packing winds of between 215 and 265 kph (133 and 164 mph).
Sunday was the worst day for tornado deaths in the United States since May 20, 2013, when 24 people lost their lives when the "Moore" tornado devastated portions of Oklahoma, according to the NWS.
Meanwhile, President Donald Trump said on Twitter that he had spoken directly with the Federal Emergency Management Agency (FEMA) and ordered it to "give the A Plus treatment to the Great State of Alabama and the wonderful people who have been so devastated by the Tornadoes."
The president added in the same tweet that "@GovernorKayIvey, one of the best in our Country, has been so informed. She is working closely with FEMA (and me!)."
Alabama Gov. Ivey extended the statewide state of emergency that had been issued last month due to tornadoes and severe weather and tweeted that "Our hearts go out to those who lost their lives in the storms that hit Lee County today."
Meanwhile, in Talbotton, Georgia, at least 15 buildings were destroyed by a tornado on Sunday, including several homes and an apartment building, according to Leigh Ann Erenheim, the emergency management director for Talbot County.
At least six people were injured, Erenheim said, and emergency crews were checking on residents on the town's outskirts and preparing to open a shelter for those displaced by the storm.
Aumentan a 23 los muertos por los tornados en el sur de EE.UU.
Washington, 4 mar (EFE).- Al menos veintitrés personas murieron este domingo, entre ellas varios menores de edad, y decenas resultaron heridas por los tornados que azotaron el estado de Alabama, en el sur del país, informó este lunes el sheriff Jay Jones, del condado de Lee.
"Parece como si alguien hubiese tomado un cuchillo gigante y cortado el terreno de cuajo (…) No he visto este nivel de destrucción nunca en mi experiencia aquí en el condado de Lee", explicó Jones en rueda de prensa este lunes.
El funcionario informó que el saldo mortal se había elevado a 23, a la vez que advirtió de que la cifra podría ser aún más alta a medida que los eq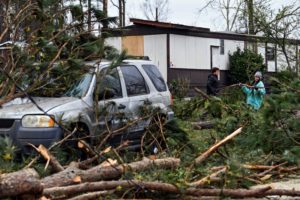 uipos de rescate inspeccionan hoy la zona en busca de supervivientes y damnificados.
La mayoría de las víctimas se produjeron en las zonas rurales cerca de la ciudad de Opelika, que cuenta con 26.000 habitantes y está próxima al estado de Georgia.
En su página web, el Centro Médico del Este de Alabama reveló que había recibido a al menos sesenta heridos por los tornados.
De acuerdo con el Servicio Nacional Meteorológico, una decena de tornados tocaron tierra en la tarde del domingo en los estados de Alabama y Georgia con vientos de entre 215 y 265 kilómetros por hora.
La jornada del domingo ha sido la más mortífera por los tornados en Estados Unidos desde el 20 de mayo de 2013, cuando 24 personas perdieron la vida por el "Moore", que devastó el estado de Oklahoma, según el Servicio Nacional Meteorológico.
Por su parte, el presidente, Donald Trump, anunció que había hablado "directamente con la Agencia Federal de Gestión de Emergencias para que les dé un tratamiento sobresaliente al Gran Estado de Alabama y la maravillosa gente de que ha sido devastada por los tornados".