Washington, Mar 13 (EFE).- Paul Manafort, the former campaign chairman for President Donald Trump, faces more than seven years behind bars after being sentenced for tax and bank fraud on Wednesday in a second case linked to the investigation into alleged Russian meddling in the 2016 election.

At the sentencing hearing in the District of Columbia, Manafort was handed an additional 3 1/2 years in prison after being given almost four years in another case last week in Virginia, that earlier sentence receiving wide criticism from many who thought it was too lenient.

Judge Amy Berman Jackson emphasized that Trump's 69-year-old former campaign chief had spent a large part of his adult and work life "gaming the system."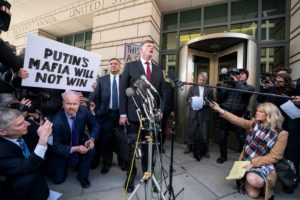 Before passing sentence, the judge told Manafort that "It is hard to overstate the number of lies and the amount of fraud and the extraordinary amount of money involved" in the federal conspiracy case linked to his foreign lobbying work and attempted witness tampering.

Among the other comments she made to Manafort during sentencing were to tell him that "What you were doing was lying to members of Congress and the American public," noting that "The dissembling in this courtroom began with the bond proceedings and it never abated."

"Saying 'I'm sorry I got caught' is not an inspiring plea for leniency," said Berman Jackson, adding that "It's not particularly persuasive to argue that an investigation hasn't found anything when you lied to the investigators."

The judge seemed to be annoyed that Manafort's legal team had repeatedly denied any Russian collusion on their client's part, saying "Any conspiracy, collusion … was not presented in this case. Therefore it was not resolved by this case."

Manafort must also pay back $6 million.

Exactly how long he will spend in federal prison remains to be determined, as Manafort is likely to receive some credit for the nine months he has been locked up since having his bail revoked.

Manafort's trial stemmed from the investigation headed by Special Counsel Robert Mueller, but it is not linked to his activities with the Trump campaign.

Mueller has accused Manafort of creating network of business entities and bank accounts in different countries to hide up to $75 million that he received mainly from the Ukrainian government and both Ukrainian and Russian oligarchs.

Shortly after the judge in Washington passed sentence, prosecutors in New York announced state charges against Manafort for the crimes of tax and bank fraud.

The 16 new charges were filed by Manhattan district attorney Cyrus Vance Jr. for allegedly running a mortgage fraud scheme in New York for many years and obtaining "millions of dollars" in the process.

Manafort will have to respond in New York to the accusations of fraud and intent to defraud in a loan request to buy a residential property, conspiracy, falsification of business documents and organizing a plot to defraud.

Last month, it became known that Vance's office was preparing state charged against Manafort.

Trump, who on a number of occasions has publicly defended his former adviser, has the authority to grant a presidential pardon for federal crimes, but he would have no such authority for sentences passed against a defendant in state court.
Fiscal de Nueva York acusa a exjefe de campaña de Trump de delitos de fraude
Nueva York, 13 mar (EFE).- La Fiscalía de Nueva York ha acusado este miércoles a Paul Manafort, exjefe de campaña del presidente de EE.UU, Donald Trump, de un total de dieciséis cargos de fraude fiscal y bancario, poco después de conocerse una segunda condena contra Manafort, que tendrá que cumplir 7 años de prisión.
Las nuevas incriminaciones han sido elevadas por el fiscal del distrito sur de Nueva York, Cyrus Vance, "por un fraude hipotecario de un año de duración, mediante el cual Manafort y otras personas falsificaron registros comerciales para obtener ilegalmente millones de dólares".
Una corte del Distrito de Columbia condenó esta mañana al exjefe de campaña de Trump a tres años y medio, después de una condena previa a casi cuatro años de cárcel que recibió en otro proceso judicial la pasada semana, en el estado de Virginia.
Manafort tendrá que responder en Nueva York a las acusaciones de fraude e intento de fraude por un préstamo solicitado para la compra de una vivienda residencial, conspiración, falsificación de documentos comerciales y organización de una trama para defraudar.
En febrero se conoció que la Fiscalía de Nueva York estaba preparando nuevos cargos contra Mabafort, de 69 años, para evitar un eventual indulto presidencial.
Trump, que ha defendido en varias ocasiones a su anterior asesor, tiene la capacidad de otorgar el perdón presidencial en crímenes federales, pero no podría si la sentencia es dictaminada por un tribunal de un estado.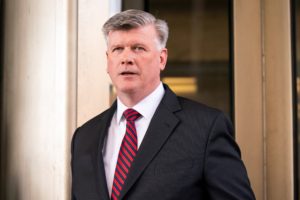 En la sentencia conocida este miércoles, la jueza Amy Berman Jackson subrayó que el exjefe de campaña de Trump ha pasado gran parte de su trayectoria dedicado a "engañar al sistema".
"Decir que siente haber sido atrapado no es una inspiradora petición de clemencia (…) Este acusado no es el enemigo público número uno pero tampoco es una víctima", afirmó la jueza que dirigía el juicio.
Además, Manafort, deberá devolver 6 millones de dólares.
El proceso contra Manafort es producto de la investigación de la la llamada "trama rusa", liderada por el fiscal especial Robert Mueller, pero no está relacionado con las actividades que desempeñó dentro de la campaña de Trump.
Mueller acusa a Manafort de haber creado una "red de entidades y cuentas bancarias" en diferentes países para ocultar hasta 75 millones de dólares que obtuvieron principalmente del Gobierno prorruso de Ucrania y de oligarcas rusos.
Manafort, que dirigió la campaña de Trump entre mayo y agosto de 2016, tuvo que dimitir tras descubrirse que había recibido 12,7 millones de dólares por asesorar en secreto al expresidente ucraniano Víktor Yanukóvich (2010-2014), vinculado a Moscú.